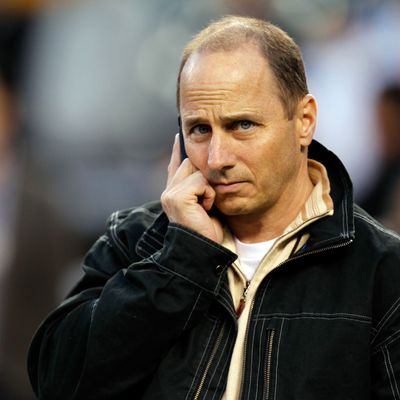 The MLB GM meetings going on in Indian Wells, California, right now aren't quite as exciting as the Winter Meetings will be in December, but not totally devoid of intrigue. Rumors be swirlin' around both the Yankees and Mets right now.
The Yankees have way too much payroll to be thinking about free agents right now, and they're most focused on incumbent players. Nick Swisher, Rafael Soriano, and Hiroki Kuroda all must make decisions on their qualifying offers by Friday (only Kuroda seems likely to accept instead of pursuing a long-term contract). The Yankees are also set to begin negotiations with Mariano Rivera, and they could be pushing for a pay cut, which hopefully won't make for any conflict.
While the Yankees await those decisions, they may be quietly examining the trade market. Brian Cashman insists he isn't trying to off-load Alex Rodriguez (which is kind of obvious by now), but it's possible that he could be trying to bring in another big name via trade — Justin Upton, for instance. The Yankees used to be on Upton's no-trade list, but that's reportedly not the case anymore. Of course, a trade for Upton or any other established player would probably have to include some prospects, and the Yankees don't own the rights to anyone quite as appealing as Jesus Montero this time around.
Elsewhere in Indian Wells, the Mets are still moving toward an extension for David Wright while looking sidelong at a similar deal for R.A. Dickey. The word from Joel Sherman of the Post is that the Mets and Dickey aren't particularly close on an extension agreement. If that gulf remains, the Mets have a choice to either let Dickey stick around for his "walk year" or trade him. And according to Sherman, trading Dickey isn't out of the question if the right return package can be assembled. Uncertainty looms.