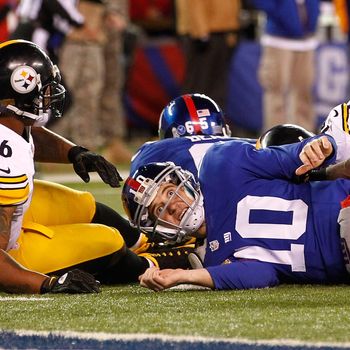 Eli Manning and the Giants have been so good in the fourth quarter that even on a day when the Giants quarterback struggled, there remained the possibility yesterday that he'd flip some sort of switch and take over in the final fifteen minutes. He didn't. The Giants got the ball three times in the final quarter of yesterday's 24-20 loss to Pittsburgh, and didn't pick up a single first down. They'd lose more yards than they gained over those three drives. It was that kind of day.
They even squandered their opportunity to regain momentum after the Steelers had grasped it. Pittsburgh cut the Giants lead to 20-17 early in the fourth quarter on a Mike Wallace 51-yard catch-and-run for a touchdown, and after a three-and-out, Emmanuel Sanders returned Steve Weatherford's punt to the Giants' twelve. Pittsburgh advanced to the Giants three, but gave the ball back after a fake field goal attempt. This was the Giants chance: A little more than ten minutes remained at this point, they had a three point lead, and now that the defense had done its job (with some help from Pittsburgh's play-calling), Manning and the offense had a chance to do theirs as well. But they'd go three-and-out for the second time in the quarter.
To put Eli Manning's day in some context, he threw for 125 yards yesterday on 10-for-24 passing, with no touchdowns and an interception. And so for what it's worth, his 41.1 quarterback rating yesterday was his lowest of the season. (His previous worst: Last week at Dallas.) In fact, that 41.1 rating was his lowest in nearly seven years, when he finished with a rating of 39.5 in a loss to Minnesota on November 13, 2005. Manning has quieted the talk of whether he's an "elite quarterback" over the past season and a half. We'd even heard an "Is Eli Manning the MVP front-runner?" debate a couple of weeks, even if it came on ESPN's First Take and involved Skip Bayless comparing Manning to Michael Jordan. And so while a game or two doesn't change the fact that Manning is one of the best quarterbacks in the league, he didn't look like it yesterday. Said Tom Coughlin:
We've got to get him back on track. He is our guy and we have to get him back playing the way he was a couple of weeks ago. And we have to do it in a hurry. It's just not Eli now. We're struggling to get ourselves in position so it's an automatic for the quarterback.
In other words: Manning's not the only player on this team, but he's the most important.
The Giants still lead the NFC East: At 6-3, they're the only team over .500. (Philadelphia, which plays tonight, is 3-4; Dallas is 3-5; and the Redskins are 3-6.) But after last week's ugly win and this week's loss, they're going through the sort of rough patch Giants fans should have seen coming, these being the unpredictable Giants and all. Next up: Cincinnati on the road next week.