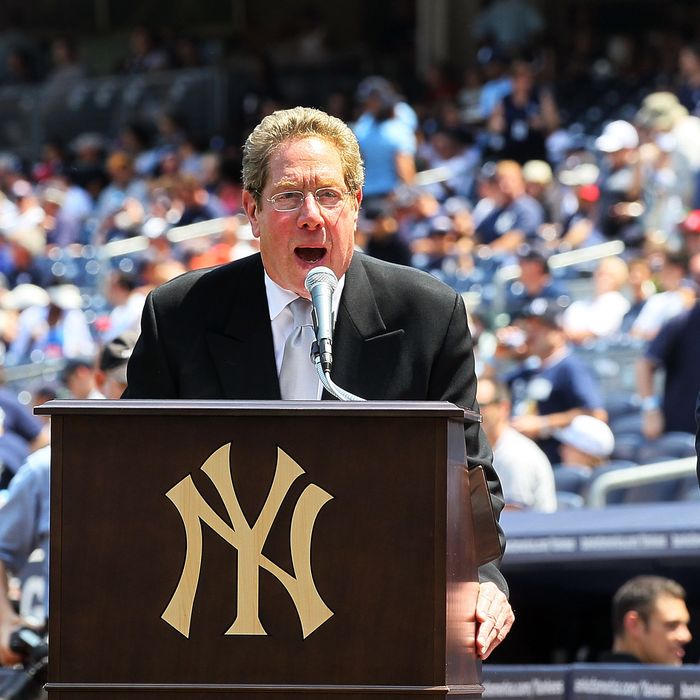 John Sterling, who simply must be involved in all of this.
Nonfictional, sports-themed plays have become a bit of a thing, and that thing's next subject happens to be the Yankees. Frank Kirmser and Tony Ponturo — the folks behind Lombardi and Magic/Bird — announced today that they'll begin working on a new production about and in collaboration with the New York Yankees. That's pretty much the extent of the detail given, but here's what the Yankees' COO had to say:
"It is a thrill that two iconic American institutions, the Yankees and the Broadway Theater, are joining together," said Lonn Trost, Chief Operating Officer of the New York Yankees. "The Yankees organization enjoys a rich history that spans two centuries, steeped by time-honored traditions, marked by major milestones, and defined most notably by the success of 27 World Championships. Just as generations of fans have been captivated in their seats at Yankee Stadium, theatergoers will be able to experience the same drama and joy. We look forward to opening our archives to the process and sharing our stories."
So, what exactly does a Yankees Broadway show entail? A few ideas:
•   A musical in which a fan of the Washington Nationals sells his soul to the devil so he can become the slugger Washington needs to beat the Yankees. Never been done before.
•   A one-man show either depicting Alex Rodriguez, starring Alex Rodriguez, or both. Centaur costume mandatory.
•   61*, the musical/The Bronx Is Burning, the musical/The Pride of the Yankees, the musical/That one scene from Anger Management, the musical.
•   Once, but with Bernie Williams as the roguish acoustic-guitar bro.
•   Just Goose Gossage sitting in a chair and eating cashews until everyone in the audience gets bored and leaves.
•   The Best .200 Hitter Ever: The Luis Sojo Story
On that note, John Sterling HAS to be involved in any overlap between the Yankees and Broadway, right? Sterling's love of theater is well documented. It'd be a damn shame to exclude him from this project, whatever sort of project it may be.