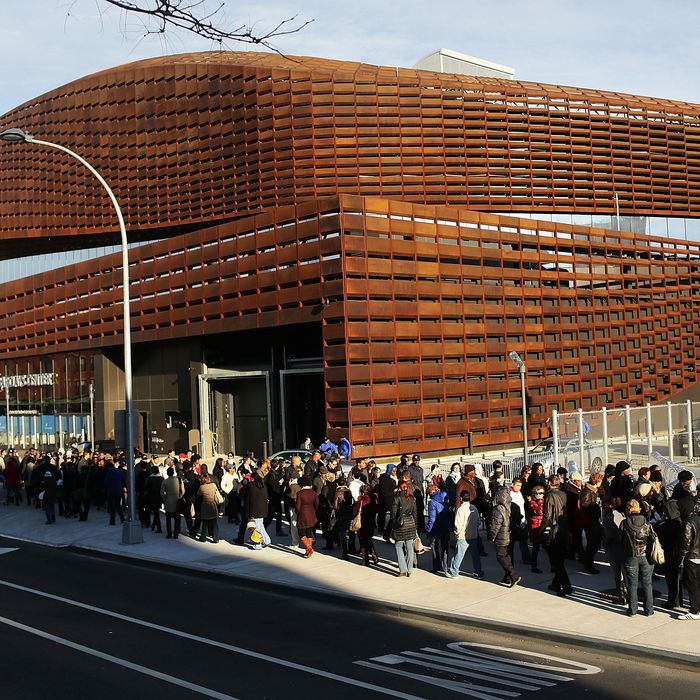 No basketball in Barclays, but a beast of a bus line out front.
It was a scary, mixed-up week in New York and surrounding areas, and a relatively quiet week in sports. Hurricane Sandy postponed the Knicks-Nets season opener until late November, so both teams will play their first games this weekend. The Red Bulls are playing an unscheduled away game. The Giants game on Sunday is still on, at least for now. The biggest and most recent cancellation, of course, is that of the New York City Marathon.
Thankfully, not all this week's stories were Hurricane Sandy–related (or whatever hurricane that was).
- Pre-Sandy, the Giants won by a hair and the Jets lost by a lot. Our beloved John Skelton got trampled.
- Oh, and the baseball Giants won the World Series, which is a pretty important series. Some New Yorkers actually appreciated that.
- Mike Baxter's old teammate was up to some creepy stuff.
- The Yankees did their best to smooth things over with A-Rod.
- Meanwhile, both teams played the offseason free agency game.
- We lost Amar'e Stoudemire to yet another knee surgery.
- Mikhail Prokhorov said some funny stuff, as is his wont.
- We kept counting down Knicks and Nets and ranked those Knicks, too. Marcus Camby's all the way near the bottom, but he's oddly relevant in tonight's Knicks-Heat game.
- We also checked in on a recently departed, beloved Knick and heard about the time another former beloved Knick got his TV stolen.
It wasn't the best of weeks. We hope y'all are feeling as safe and comfortable as possible post-storm and wish you a pleasant, recuperative weekend.