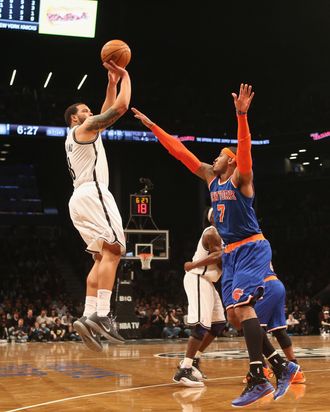 Deron Williams and Carmelo Anthony.
The Knicks and Nets were supposed to kick off their respective seasons on opening night at Barclays Center, but because of Hurricane Sandy, the NBA's first-ever interborough matchup didn't happen until this Monday. The Nets got the better of the Knicks in that game, in a building that was evenly divided between fans of the home team and fans of the visiting team. But both squads are off to great starts: The Nets have won four in a row, including an eventful game up in Boston on Wednesday, while the Knicks picked up two wins this week, against Detroit and Milwaukee. (The two New York City teams are currently tied atop the Atlantic Division with 10-4 records.) But what happened this week that didn't involve two sets of power rankings?
The Giants crushed Green Bay on Sunday night. (They fared a lot better in that nationally televised game than the Jets did in theirs three nights earlier.)
David Wright agreed to a seven-year extension to remain a Met through 2020.
The Yankees' pitching staff didn't get any younger. Also, they're going to need a new starting catcher.
And we linked to more random hockey videos as the NHL lockout continued.
That's it for us. Have a great weekend.