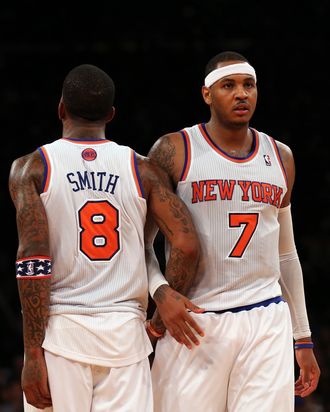 J.R. Smith and Carmelo Anthony.
Last week's "Week in Review" was titled "The Week the Knicks Stayed Undefeated." And wouldn't you know it, seven days later, they still haven't lost. After beating Dallas at the Garden last Friday, they hit the road, where they picked up victories against Orlando and San Antonio to improve their record to a perfect 6-0. (Carmelo Anthony topped our Knicks Power Rankings for the week.) But what happened this week that didn't involve plans to wear Orange on Christmas?
The Giants lost by a lot.
So did the Jets, who had a very Jets week.
The Nets extended their winning streak to four games.
R.A. Dickey won the National League Cy Young Award.
The Lakers hired Mike D'Antoni.
St. John's won in Steve Lavin's first game back.
We learned that there will be a Yankees Broadway show.
The Marlins had another fire sale (pending league approval).
And with NHL players still locked out, we showed you a bunch of random hockey videos.
That's it for us. Have a great weekend.