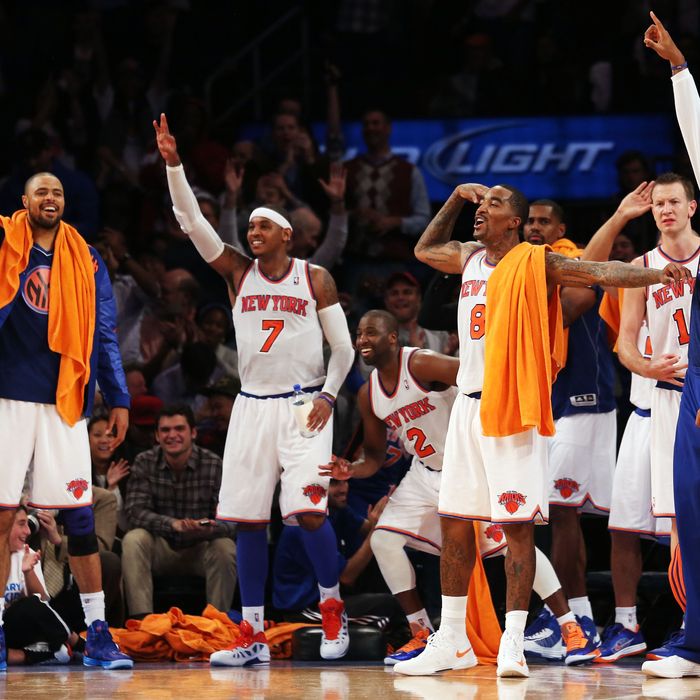 The Knicks started the week undefeated, stayed that way after beating the 76ers again, and that's how they'll go into tonight's game against the Mavericks (and in that one, they'll have Marcus Camby back. It's been a while.) Even Rasheed Wallace looked pretty good, and he would have been higher in our Knicks Power Rankings if everyone else hadn't played so damn well. Really, the only thing you can hold against the Knicks so far has been their poor choice of ad copy.
How about the Nets? Well, after starting with a win (and an insane mascot), they played poorly enough to hear some boos, then got blown out by the Heat.
While the NHL lockout hopefully made some progress toward a resolution, Chris Kreider looked good elsewhere and Sean Avery did some good.
It's G.M. meeting season in baseball. The Mets made big news by ending things with Jason Bay, then quietly contemplated dealing R.A. Dickey while Sandy Alderson cracked jokes. (The Yankees, meanwhile, might be interested in Justin Upton.)
In football, the Jets are coming off a bye week and heading into a game with the Seahawks feeling all sorts of cocky for no reason. After their collapse against the Steelers, the Giants are looking to right the ship in Cincinnati. But will they dance?
In soccer, the Red Bulls got snowed on, then eliminated while the U.S. Men's National Team got to see its hexagonal schedule.
We're still not over Hurricane Sandy, of course. Just ask the folks in charge of running (and canceling) the New York City Marathon.
That's all for us this week. Have a safe, pleasant weekend.