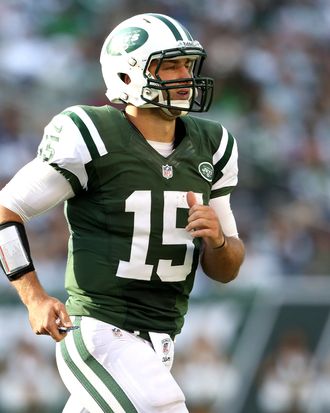 The Jets are denying reports that sorta feel made up anyway that there have been talks with Jacksonville about trading for Tim Tebow. There's something sort of depressing about that notion anyway; there, Tebow would be backing up Blaine Gabbert, and that's sort of worse than backing up Mark Sanchez. Whether it's his fault, the fault of the Jets coaching staff or just the fault of those darned scouts who are all like, "Tebow can't throw!" the whole Tebow-to-the-Jets thing is starting to look like a mistake all around. And, alas, Tebow has no one to blame but himself.
Remember, back in March — when the Broncos signed Peyton Manning and started all this Tradin' Tebow business anyway — Tebow was actually given a choice: the Jaguars or the Jets? According to Daily News sources, Tebow chose the Jets because he didn't think Mark Sanchez would hold onto the starting job. We don't quite buy that — certainly coming into the season, Gabbert was on far shakier footing than Sanchez — and were always under the assumption that Tebow wanted the grand stage of New York for his proselytizing and charitable work. Regardless of the reason, you can't do much brand expansion if you can't get off the bench.
The irony, of course, is that Sanchez has played as bad as theoretical Daily News sources Tebow could have theoretically hoped. Rex Ryan and the Jets have just been stubborn enough to keep him as starter while still not figuring out how to use Tebow at other positions. Tebow wants to play, and it's not happening here, rightly or wrongly.
Imagine if he had just chosen the Jaguars in the first place. Jacksonville almost certainly would have made him the opening-day starter. The Jets would have had a relatively calmer off-season, and certainly not SportsCenter broadcasting live from practice every damn day. The Jets would have looked like they had a plan all along — their fans' major concern about the move in the first place — the Jags would have sold some tickets for once and Tebow would have, at last, been able to prove he was an NFL-quality starting quarterback. Everybody would have been happy, and the world would have been saved a lot of senseless, ultimately pointless hype.
Both teams would still be under .500, though. Worth mentioning.