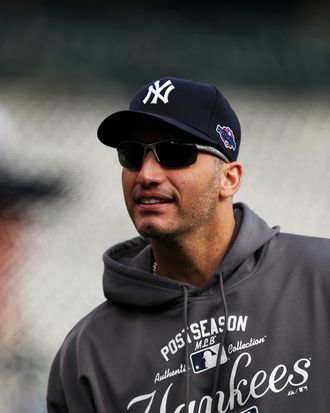 Here are some of the high-profile moves the Yankees have made, are on the verge of making, or could be making soon. Note the ages of each:
• They signed Hiroki Kuroda, who will be 38 on Opening Day, to a one-year deal worth $15 million.
• They're reportedly close to signing Andy Pettitte, 40, to a one-year deal worth $11 million.
• The Yankees also hope to sign Mariano Rivera, who turns 43 on Thursday, to a new contract by the start of next week's Winter Meetings. Via Newsday, he's expected to get a deal worth "slightly less" than the $15 million he made in 2012.
Not that there was much doubt that guys like Pettitte and Rivera would be back with the club if they chose to play another season, but the Yankees' strategy here is to squeeze another year out of pitchers with track records, and because they're all signed to one-year contracts, the relatively high price tags doesn't faze them. Remember, their goal is to cut payroll by 2014, so these deals don't directly affect that year's budget. The timing works in the Yankees' favor: They must be careful about making long-term commitments, but these are all pitchers who aren't looking for them because of their age.
There's still risk involved here, though: Older pitchers are more likely to break down, and even if they don't, odds are they'll produce diminishing returns as they age. But the Yankees were comfortable enough with their rotation last year that they'll bring back both Kuroda and Pettitte for another go-round, to slot behind CC Sabathia. (Back-of-the-rotation types like Phil Hughes and Ivan Nova are still here, too, and they should get Michael Pineda back in 2013, though what he'll be able to do after missing an entire season is anyone's guess.) As for Rivera, he's already defied logic pitching as well as he has for as long as he has, and so the Yankees are willing to let him keep going, especially since Rafael Soriano could sign anywhere.
There's still some work to be done in assembling the roster, and every move they make has at least some indirect long-term effect. A one-year contract for Player A, for instance, could mean passing on a Player B who requires a longer deal. Indeed, the real hard decisions won't come until they're considering players who will command contracts lasting longer than one season. Now more than ever, Brian Cashman can't just be thinking of the upcoming year's payroll; he has to be looking at 2014 and beyond.