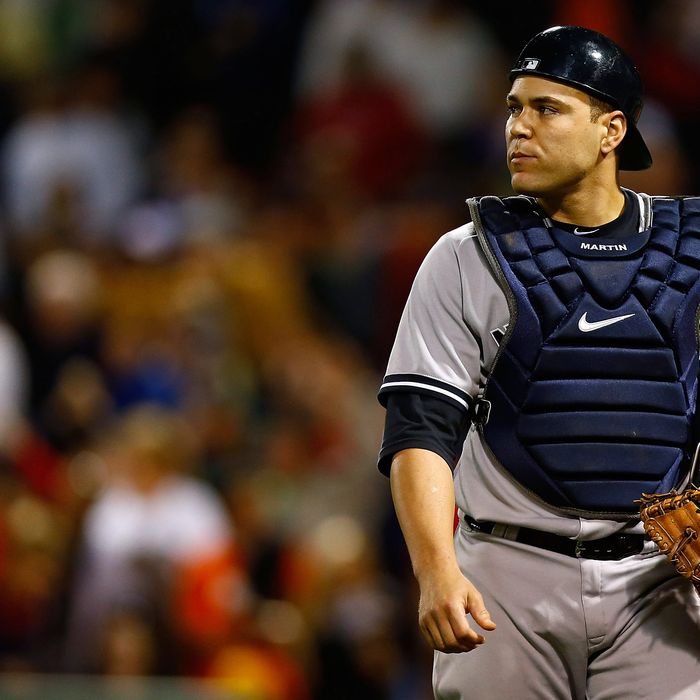 There's some actual Yankee news today that doesn't involve the New York Post calling Derek Jeter fat on its back-page: Russell Martin, the team's starting catcher for the past two years, has agreed to a two-year deal with the Pirates worth $17 million. (In other news, the Mariano Rivera has agreed to a one-year deal, but that's been expected ever since he announced he was returning for 2013.) As for Martin, the Yankees did have interest in bringing him back, but they couldn't meet his demands.
You know how you know the new baseball CBA is working? This sentence from the Times:
Martin said the Yankees told him they did not have the money to meet his contract demands, underscoring their desire not to give free-agent deals this winter that extend beyond 2013.
Now, a couple things to keep in mind: Even without an obvious candidate to replace Martin (either to target from outside the organization or the promote from within), Martin wasn't worth keeping at any cost. He did hit for a little power last season but posted an on-base percentage of just .311 and a below-average OPS+ of 92. Catchers are about more than offense, of course — Brian Cashman called himself "a big Russell Martin fan" yesterday — but as they look to lower payroll by 2014, that's the type of player the Yankees are going to let walk these days.
We'd actually suggest you read all of these quotes from Cashman about the Yankees priorities this off-season, but it boils down to this:
The market for Russell was aggressive, as it should have been, and our focus has been on our pitching and after that I have a lot of different holes to fill and we need to be careful how we allocate our remaining funds to make sure we can fill all the holes.
Again, that's the GM of the New York Yankees talking about allocating the team's remaining funds. The Yankees can still have a very high payroll, but until they're below the $189 million threshold, they have be mindful of how they spend their money. Cashman would also add that finding a right fielder is a bigger priority right now than finding a catcher. In other words: It looks right now like they're going to try and fill the catching spot on the cheap. They're reportedly not expected to go hard after free agents Mike Napoli or A.J. Pierzynski. They could explore the trade market or see if someone like Geovany Soto is non-tendered by his current team. Or they could turn to an in-house candidate.
Francisco Cervelli and Chris Stewart are backup-types, and Austin Romine — who had a cup of coffee in the majors in 2011 — is coming off an injury and currently expected to start the season in triple-A. (Cashman describes him as "on the outside looking in," and said the plan right now is for him to spend the entire 2013 season at triple-A, though that could change.) The Yankees also recently designated Eli Whiteside for assignment to clear room on their 40-man roster for Andy Pettitte.
Once upon a time, the Yankees' system was loaded with promising young catchers. But Jesus Montero (who was really more of a DH) was traded to Seattle (where, incidentally, he was pretty underwhelming last year), while Romine was set back by his injury. Meanwhile, highly touted prospect Gary Sanchez is still just 19. The easiest way to cut payroll while maintaining a quality roster is to develop talented players from within the organization, and it's at least possible that Romine could make an impact sooner than later. Because otherwise, as the Yankees are about to find out, finding a quality catcher on the cheap isn't easy.