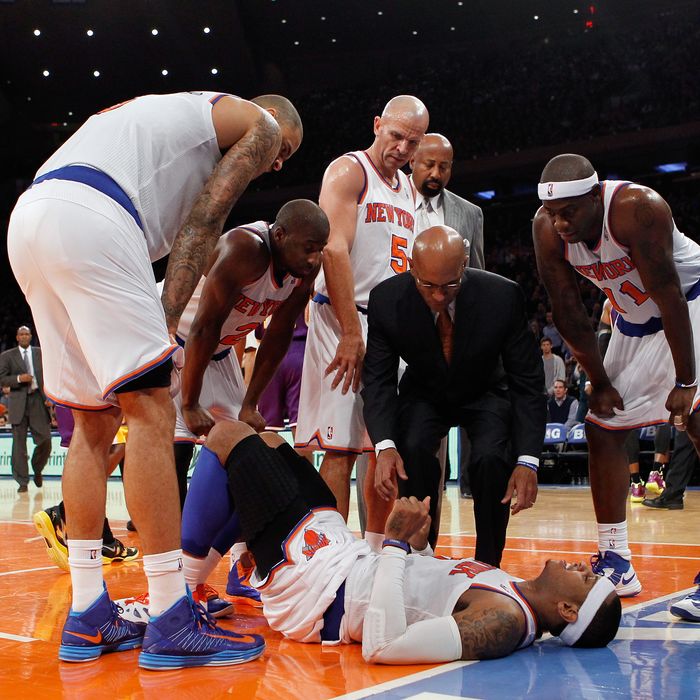 Carmelo Anthony, post-foul.
Once the Knicks had gamely survived a Lakers comeback last night, the main thing on our minds was the health of Carmelo Anthony. After an amazing, effervescent first quarter and, in total, 30 points in 23 minutes, Melo took a hard, mid-flight foul from Dwight Howard and hit the floor with all of his weight crashing upon his bent left leg. It was not pleasant to watch, and it may or may not have caused me to attempt a hex on Howard. After taking his free throws and trying to play through the pain, Melo pulled himself and did not return.
The diagnosis during and after the game was a "mild left ankle sprain." The phrase "day-to-day" got thrown around, and even Knicks GM Glen Grunwald got cornered into giving a "not that serious" evaluation. Melo's postgame interview, though, revealed that the diagnosis was based on basic, manual testing and revealed that pretty much his entire left leg was sore (which, given the nature of the fall, is unsurprising). The fact that he was still walking and stuff after the game bodes well, but Knicks fans will be on edge until an MRI is done or Melo wakes up this morning feeling fine. Since Amar'e Stoudemire's current knee injury was once deemed "day-to-day" and the injury that ended Jeremy Lin's 2011-2012 season was also once "day-to-day," we've been conditioned to fear the worst upon hearing that phrase. For now, though, it seems possible that Melo will miss a game or two (the Cavaliers visit on Saturday, the Rockets next Monday).
Of note, especially considering the possibility of some time off for Anthony: J.R. Smith has quietly busted out of his slump. He'd been shooting dismally to start the month of December, but after a decent outing in Brooklyn, shot 7–14 last night and hit two big, big shots — a pull-up two and a three off the catch — to quell Laker comeback attempts. (He then proceeded to publicly Twitter-battle nasty Laker fans — including heavy use of the "Condescending Wonka" meme — and make public his long-rumored romantic involvement with singer K. Michelle. J.R. is one of a kind.) Whenever Melo's off the floor, New York needs a guy to create points when the pick-and-roll game falters (which it does at least for a stretch pretty much every night). A rejuvenated Smith could help ward off a slump should Anthony miss time.