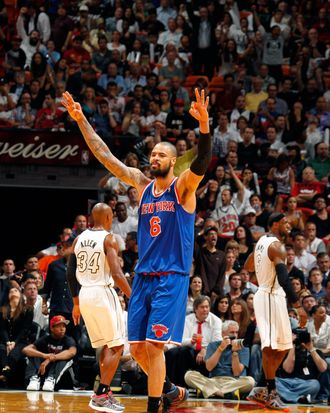 It's hard not to blow one's top after a Knicks win like last night's. Such a gleeful, disrespectful bludgeoning of the defending champs — and the second straight one of those, at that — is bound to elicit all sorts of "The Knicks are for real!" sentiments from fans, media, and even some more impressionable players. It's exciting but immaterial in early December.
And that's what makes guys like Jason Kidd and Tyson Chandler such heartening company. They're not the only former champions on the Knicks — Mike Woodson and Rasheed Wallace got a ring together in Detroit, and Pablo Prigioni got some hardware in Spain — but they're the most recent winners by far, and the players most dedicated to keeping everyone's heads on straight. They've both been consistent and outspoken in their comparisons between these Knicks and the 2011 Mavericks, and they both lent some useful context after the win last night. Chandler had the following to say:
"It's important to know how you can beat a team," Tyson Chandler was saying in the locker room afterward. "Granted, it's one game. But last year, things were very different. We got smacked around a little bit by them. It's important that you take a little from each game, because when it comes down to it, we're going to have to go through a team like this when it comes to the playoffs."
And here's Kidd:
"It's an 82-game schedule," he said. "This is dress rehearsal, that's all this is. You guys will do all the hype and everything, but this is just dress rehearsal for the playoffs … You can't fall into the trap of feeling good about yourself because we haven't accomplished anything."
And Kidd again:
"They're still the champs. We haven't done anything … It does feel good, but we can't be satisfied. We've got to stay hungry. We can't fall into the trap because we really haven't accomplished anything yet."
That, to me, is crucial. There's a meaningful difference between winning a couple early games and saying "We did it," and reflecting on those games and saying "This is how we do it." The Knicks will almost certainly have to win four of seven games against the Heat (well, assuming this eerie Miami stupor isn't going to last forever) if they wish to contend for a title. Taking these regular-season wins is useful practice, not to mention ground gained in a season series that might eventually decide seeding tiebreakers. New York is gradually outlining a blueprint for taking down the defending champs — the pick-and-rolls, the perimeter spacing, the five-man attention to rebounds, and a whole lot more. Whether or not the Knicks "sent a message" or "proved they're for real" matters little in the scheme of things, and it's encouraging to know they've got leading voices with the scheme of things in mind.
On the other hand, how can you not lose your mind over this?