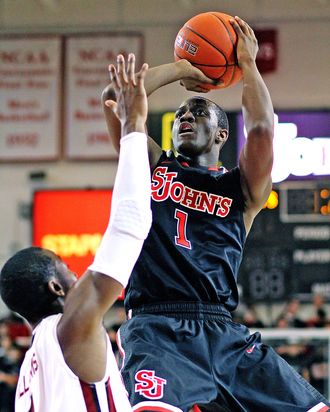 A couple months back, New York's Matt Giles looked at how the Atlantic 10 conference — with its new members, a new TV deal, and a postseason tournament at Barclays Center — is on the rise. And now according to a report, the conference has discussed the possibility of a huge expansion that would involve swallowing a chunk of the Big East Conference to create a 21-team basketball league.
ESPN reports that the Atlantic 10 has discussed a scenario in which it would add the seven Big East Catholic schools, i.e., the ones without big-time football programs. Doing so would create a conference of 21 teams: The Atlantic 10 currently has sixteen teams, but is set to lose Temple to the Big East and Charlotte to Conference USA. St. John's would be among the schools joining the A-10, if such a scenario played out. The other six? DePaul, Georgetown, Marquette, Providence, Seton Hall, and Villanova.
Football is king in the changing world of the NCAA, and the Big East is undergoing some major changes: It's losing longtime members like Syracuse and Pittsburgh, as well as Notre Dame, Rutgers, and Louisville. Money, ultimately, is the driving force behind all of this, and the ESPN report explains that the seven Catholic Big East schools (which, again, is a shorthand for saying those without FBS football programs) "are attempting to secure the best television deal possible and are debating whether to split from the Big East."
See, those seven Big East schools might not be in position to make as much money from that conference's TV contract as they might have expected. Via CBS Sports, they've reportedly met and considered the possibility of breaking away from the Big East football members, though that doesn't mean they'd necessarily jump ship together for a super-sized Atlantic 10. From CBS Sports:
This development comes less than a week after CBSSports.com's Dennis Dodd reported that the Big East's next TV deal could be worth as little as $60 million annually, meaning the league's seven non-football members – Georgetown, Marquette, Providence, St. John's, Seton Hall, Villanova and DePaul – will make a fraction of what they figured to make before Syracuse, Pittsburgh, Notre Dame, Rutgers and Louisville announced within the past 15 months that they're leaving the Big East. Considering TV revenue has long been viewed as the only tangible reason for the non-football members to remain affiliated with the football-playing members, last week's report combined with the possibility of additional changes has the non-football members now exploring other options. One possibility, a source said, is the non-football members forming a basketball-only league and perhaps inviting other relevant basketball schools without FBS-level football programs to join them – schools like Butler, VCU, Xavier, Saint Louis, Dayton, George Mason and Creighton.
From a competitive standpoint, that would seem to make more sense. At schools without big-time football, basketball is generally the most high-profile sport, and that new basketball league would be a mess. To give one example, and we say this as a proud alum of the university: Fordham, a current A-10 member, has no business playing in a league with Georgetown or Villanova. (In the current A-10, the university at least gives the conference a New York presence, but St. John's can better hang with those top programs.)
Rather than join a conference with some very good teams and some very sub-par teams, those seven Big East schools could cherry-pick ones that fit — schools like Xavier that don't have big-time football and wouldn't be out of place alongside its upper-tier basketball programs. (Of course, it's possible some of the less-competitive A-10 schools find their way to other, weaker conferences, though that possibility isn't mentioned in the ESPN report.) 
Ultimately, those seven Big East schools will do whatever makes them the most money. And maybe they won't make any drastic moves, and instead stay in the Big East, which is adding members like Tulane, Houston, and Memphis. So maybe all we're saying is: Please don't make Fordham play in a conference with Georgetown and Villanova. That could get ugly.