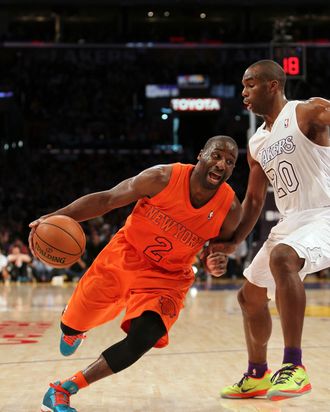 There is a thing the Knicks do. They've done it for a while. I don't think it's sinister or anything, but it's really obnoxious and it puts fans and media on perpetual edge. The thing: When the Knicks don't yet know the extent of a player's injury, they make the injury seem minor. Each of Amar'e Stoudemire's massive, multi-month-eating injuries originally rendered him "questionable" or "day-to-day." Between tearing his meniscus and getting prescribed season-ending surgery on said meniscus, Jeremy Lin was a "game-time decision." These are real bits of jargon that mean things coming from other organizations, but the Knicks just carelessly broadcast them as code for "We don't know yet; go away."
Which brings us to Raymond Felton. It is clear, in retrospect, that the Knicks did not and could not know the extent of Felton's hand injury immediately after it happened. The Knicks probably had to wait 24 hours or so for the swelling to go down before they could conduct an X-ray. One good, helpful thing to say in that case would be: "We don't yet know the extent of the injury and have to wait for the swelling to recede before doing an X-ray." Right? What's wrong with that? Everyone would understand and be patient. Instead, the Knicks came out with specific, suggestive words like "sprain" and "questionable" (also "fifth finger", because they're apparently averse to the word "pinky"), implying that they'd closed the book on the damage and were waiting for Felton to decide whether or not he felt well enough to play.
Sure enough, Felton ended up getting deactivated an hour or two before tip-off. The Knicks examined the finger during the game, then announced afterward that it was fractured and he'd return to New York for further testing and a concrete prognosis. That's it. The possible surgery and "four to six weeks" you're hearing about? That came from Ray himself, not the Knicks. It took needling from reporters to get it out of him and got his media availability promptly shut down. Again, there's a right thing to say here: If they don't know yet, they could say they don't know yet and clarify that Felton was merely describing one possibility. If they do know, they could just tell us and lose nothing in the process. Instead, we get silence. These practices are hardly atypical and far from the worst we've seen out of an organization long steeped in subterfuge, but goddamn are they irksome, and I say this as someone who doesn't even have to do the firsthand reporting on this stuff. 
All this, in turn, brings us to Carmelo Anthony. During the Lakers game on Christmas, Melo had Marcus Camby fall onto his left knee, hyperextending it. He played through the pain and said after the game that he expected to be ready for the Suns, but woke up sore Wednesday morning and got scratched from the lineup around the same time Felton did. As of right now, Melo's injury has him "questionable" for Friday with no tests expected to be run. Meanwhile, Mike Woodson's saying things like "I don't know how long he's going to be out — there is a concern" and Melo himself refuses to speak to media. These things are alarming and undermine the suggestion that Melo's injury is trivial. I, as a Knicks fan, am neither resigned to Melo's prolonged absence nor hopeful for his prompt return. I'm uncertain and scared. And I don't even know whether my being uncertain and scared is silly. I don't know anything.
This is why Knicks fans hyperventilate over every single minor injury. This is why we struggle to sleep, waking at odd hours soaked in perspiration with our mouths full of Band-Aids (No? Okay, maybe that last part is just me). Yes, the team is very good now, and yes, this organization appears to have made some terrific decisions, but it remains slightly, persistently scary to be a Knicks fan. The Knicks make it so.