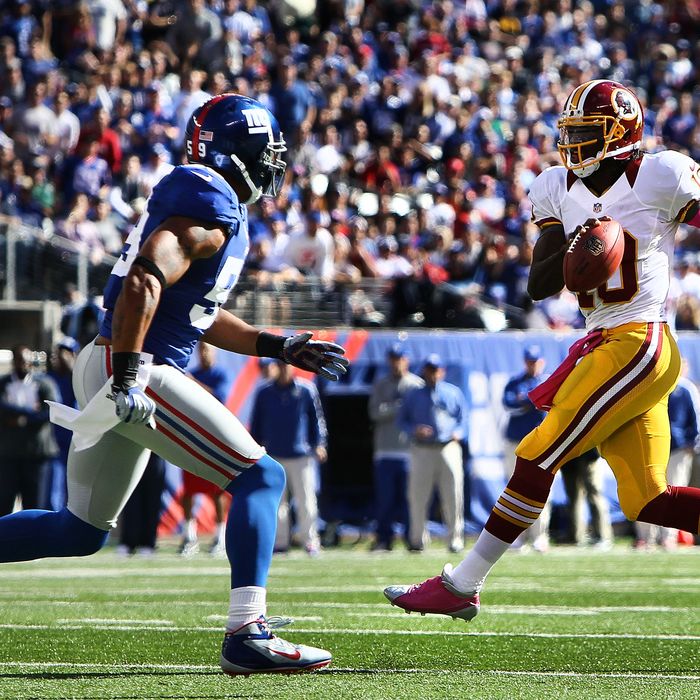 The Giants will do their best to contain Robert Griffin III tonight.
Hey, this is gonna be a good football game. It's Monday Night Football, and the Giants and Redskins have quite a bit on the line. Washington's been nipping at New York's heels with a couple of recent wins, but the Giants can swat 'em down more or less for good with a victory. A win would move the Giants to 8-4, well enough above Dallas and Washington to all but assure a division win even with a poor showing against a tough remaining schedule.
And again, this should be a fun one. Eli Manning has been weirdly spotty against a pretty poor Redskins pass defense, but looked reawakened against Green Bay last week. Robert Griffin III, Alfred Morris, and Washington's option-heavy offense kind of cruised against New York in their loss earlier this year, and they've been similarly cruising of late. With Pierre Garcon healthy this time around plus some injuries to the Giants' defense, the Redskins might be poised to put up a whole mess o' points.
Manning and friends are supposed to shine in big games, but even after that last win (and the pass rushing success therein), I'm not sure they're game to slow the 'Skins, nor to outgun them. If anything, a loss tonight would set them up for even bigger, more crucial games down the road. Redskins 31, Giants 27.