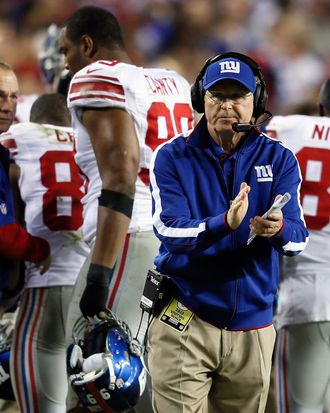 Tom Coughlin's Giants need some lucky breaks to make the playoffs.
Greetings, Giants fan. Or should I say Giantsredkinspackerslions fan? New York folks wishing to see their Giants in the playoffs — only possible as a Wild Card berth — need the Giants to beat Philadelphia on Sunday, but they also need for a bunch of other scenarios to fall into place.
Obviously, the Giants need to beat the Eagles on Sunday afternoon. At 4–11, Philadelphia's got nothing of their own to play for, so any effort on their part will be in the name of pride and/or trolling the Giants. Besides that, here's what else has to happen after all of the conference-record tiebreakers are sorted out:
- The Redskins must beat or tie the Cowboys in Washington to win the NFC East.
- The Packers must beat the Vikings in Minnesota.
- The Lions must beat the Bears in Detroit.
So, you're gonna need four pairs of eyes to keep track of the Giants' playoff chances this Sunday. With such a gauntlet of circumstances necessary to secure that playoff berth, it'll be interesting to see how hard the Giants push their gaggle of injured players. Will guys like Hakeem Nicks and Justin Tuck (to name two of many) play through pain for the mere chance of lucking into the Wild Card, or is that too much risk for too slim a possibility? Also of note: Michael Vick's starting for the Eagles, which should be interesting. Giants 27, Eagles 17, but that'll only take them so far.