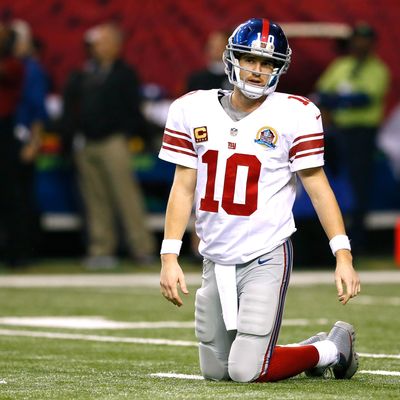 You'd think the Giants would have prepared their fans by now for these drastic swings in their week-to-week performance. This is a team, after all, that last month lost badly to Cincinnati, 31–13, then smoked Green Bay 38–10 in their very next game. They've done things like this for years now, but what happened yesterday was especially hard to watch: Seven days after putting up 52 points in a 52–27 rout of New Orleans, the Giants' offense looked lost, getting shut out for the first time since 1996 in a 34–0 debacle in Atlanta.
Let's give the Falcons their due: They improved to 7-0 at home and 12-2 overall, and made big plays when they needed to yesterday — especially on defense, where they consistently got good jumps on Eli Manning's passes. (Atlanta picked off Manning twice in the first half, and turned those interceptions into ten points.) They got their revenge for last year's near shutout in the playoffs — or at least, they got as much revenge for a playoff loss as a team can get in the regular season. But this was an especially embarrassing loss for the Giants — to repeat: They were shut out in Week 15 in the midst of a division race — on a day when they got no help from the other NFC East contenders.
The Giants' loss dropped their record to 8-6, while Washington, even without Robert Griffin III, pulled away from the Browns to improve their record to 8-6. Then, to make an awful, no-good day even worse, Dallas beat Pittsburgh in overtime later in the afternoon, improving their record to 8-6 and setting up a three-way tie in the NFC East with two weeks to go.
Of course, a three-way tie isn't really a three-way tie. Via NFL.com, the Giants would clinch a playoff spot of some sort if they win out. (They play Baltimore next week and Philadelphia the week after.) But they'll need help to win the East now: Even if they win out, they won't own the tiebreaker against either the Redskins or Cowboys if either of those teams also finishes 10-6. (That NFL.com article has some other playoff scenarios, too.)
In a cruel, prerecorded commercial that aired on Fox a little while after the Giants-Falcons game ended, the voice-over hyped next week's Giants-Ravens games by telling viewers that "the Giants are back in championship form." Needless to say, they did not look like a championship football team yesterday. They didn't even look like a playoff team yesterday — and it's very possible they won't be one. The thing about the Giants, of course, is that they tend to turn these things around, even if not permanently. Their lows are pretty low, but their highs in recent years have been very high. It would be hard to imagine the team that took the field yesterday beating Baltimore — or any pro team this side of Jacksonville — next week if we hadn't seen them do that sort of thing before. If they are indeed going to get back into championship form (again), they'd better do it soon, though.