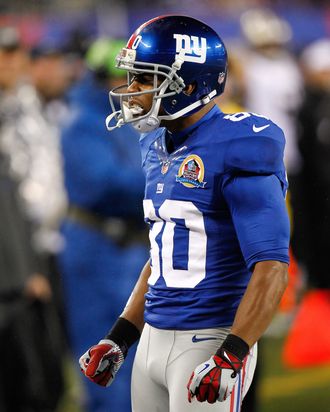 We've heard a lot over the past few days about how the Giants play their best football when their backs are against the wall late in the season. After all, two borderline miraculous Super Bowl runs in five seasons tend a earn a team that reputation. But it's not like there's a switch they can flip: Rosters change from year to year, of course, but this is also a Giants team that's missed the playoffs in two of the last three seasons. They're a fascinating team: Talented enough to beat anyone and maybe make a deep playoff run, but inconsistent enough to possibly miss out on the playoffs entirely. This isn't new, of course. Take a look back at the wide range of predictions from before the season: some had them winning the Super Bowl, and some had them missing the playoffs altogether. No one knew what to make of the Giants then. Fifteen weeks in, we're still not totally sure what to make of them.
By now, you probably know the deal: The Giants make the playoffs if they win out, though they'll need help to win the division. They can clinch a postseason berth this weekend, though they'll need help from a few sub-.500 teams. And they can be eliminated from the NFC East race under a couple of realistic scenarios, though they'd still be alive for a Wild Card, which ultimately is the most important thing. (You have to be in it, as they say, to win it.)
But the worst-case scenario — being eliminated from postseason contention this weekend — isn't all that crazy. The Giants would have to lose, but they're coming off a pathetic loss to Atlanta and playing on the road against a 9-5 club. Then Washington and Dallas would have to beat 4-10 Philly and 6-8 New Orleans, respectively, which certainly isn't out of the realm of possibility. And lastly, the 9-5 Seahawks would have to beat or tie 10-3-1 San Francisco, in Seattle. That's a lot of games that need to go a certain way, but it's hardly the most improbable scenario. At least the Giants will know what Dallas and Washington have done: Both the Cowboys and Redskins play early games on Sunday, with Giants-Ravens scheduled for 4:25. (Seattle and San Francisco are the Sunday night game this week.)
And so to put it another way, no matter what any other teams do this weekend, this would be an excellent time for the Good Giants to show up again. It's only been a couple of weeks since they put up 52 points against New Orleans in a 25-point victory. It's less than a month since they cruised (Cruz-ed?) against a short-handed but still very good Packers team. (It's Green Bay's only loss since October 7.) But man, the Bad Giants were worse than usual last week. Yes, Atlanta is legit, so give them credit for playing an excellent game. But that game was totally one-sided: Eli Manning and the offense stunk — it was Eli's lowest-rated game since 2007 — and the defense, to use Perry Fewell's term, was embarrassed. The Giants, in certain past years, have been able to turn things around in time, but it wasn't lost on us last season how crazy it is for a team to wake up and go on a run the way they did. That sort of thing isn't supposed to happen ever, let alone with any regularity.
The Ravens have lost three games in a row, but can clinch the AFC North with a win on Sunday. As for the Giants, they won't just need to be better than they were last weekend to beat Baltimore on Sunday. They'll need to be a lot better. Ravens 27, Giants 20.