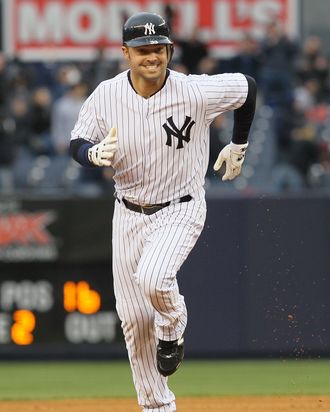 Yesterday afternoon, the Daily News' Mark Feinsand broke the news many Yankees fans were dreading: Nick Swisher was leaving town. The Cleveland Indians offered Swisher a rather massive four-year, $56 million deal (with a fifth-year option), and there was no way the Yankees were going to match that. Also, while we have you, Raul Ibanez is leaving town now, too: One-year, $2.75 million to Seattle. So who's gonna play the outfield for the Yankees now?
Yeah, the Yankees continue to dress up as the Rays this off-season, and while their moves have all been prudent, it's still strange to see all these free agents leaving the Bronx. Particularly one as popular as Swisher. (Unless it was the postseason, of course.) But this was a surprise to no one.
So that leaves the Yankees with Brett Gardner, Curtis Granderson, and Ichiro Suzuki as their three outfielders, three left-handed hitters who are either old, injury-prone, or both. And Chris Dickerson, don't forget him. There isn't much left to choose from.
Still, we thought signing Swisher at that price would have been crazy. But we might not have been right. Here's what smarter people than us said about the signing:
Keith Law, ESPN (who's actually not that down on Swisher): "What I don't get is the logic of a below-.500 team giving a four-year contract to a corner outfielder who is entering his age-32 season. Cleveland lost 94 games in 2012 and had the second-worst run differential in the majors; prior to the Swisher signing, its only significant move of the offseason was trading Choo for Trevor Bauer, a great deal for the long term, but hardly enough to make the team a contender in 2013 or 2014. Swisher has held his value fairly consistently through his prime years, but corner bats don't typically age well into their mid-30s, and Swisher's passive approach, with lots of walks and strikeouts, is often a harbinger of an earlier decline."
Jay Jaffe, SI: " The team's offense suddenly looks a whole lot less imposing. The bet here is that they're going to miss Swisher a whole lot more than they think."
Here's a wild number, though: Nick Swisher is now the highest-paid Indian. We enjoyed the guy … but we bet if Nick Swisher is your highest-paid player, your team is not that great.
Still, the Indians have a regular right fielder who can hit for power and draw walks. That's more than the Yankees have.