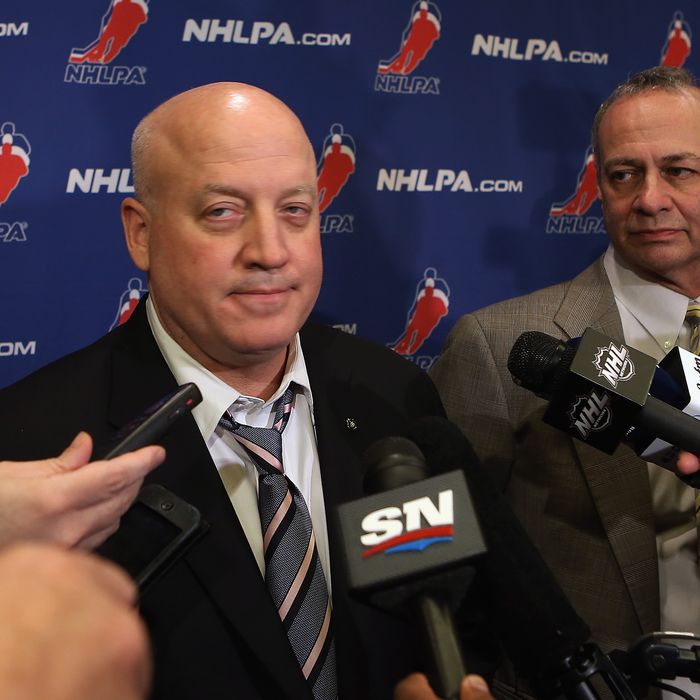 NHL deputy commissioner Bill Daly and NHLPA special counsel Steve Fehr.
As you may have heard, yesterday was a big day in negotiations between the NHL and the NHLPA. There's been no agreement, but the two sides met well into the night, and for the first time in a while, there's some optimism that the lockout might be nearing its end. (There are a bunch of encouraging quotes in this Daily News piece, but since we trust Columbus president John Davidson more than pretty much anyone in the sport, we'll repeat his reaction to yesterday's events here: "We feel good about the information we got.") NHL deputy commissioner Bill Daly said that there are still "critical open issues between the two parties"; the league expects to hear from the players on those issues today. Kevin Allen has the details of the negotiations, and as he notes, the season appears to be in the hands of the players right now.
We want to call attention to a quote from former Rangers goalie Mike Richter*, who was appearing at an autograph signing yesterday. Via the Post:
"If I'm an owner and I'm losing money under the present circumstances, I'm going to say, 'look, we have to change it,' " he said. "You'd think you could've come to this point before you start hurting the league, before the season started. Of course nothing really seems to get done before the 11th hour. For me, it was in August. For them, it might be last actual moment, which could be the start of the new year. Part of getting a deal is compromise. Both sides have to bite the bullet, probably accept things they normally wouldn't want and figure it out.''
He touches on what's so frustrating about these negotiations. It's felt for weeks like there's been little urgency to get a deal done and that nothing would happen until the season was in jeopardy of being canceled altogether. (For a while, we thought that maybe saving the January 1 Winter Classic — which requires weeks of preparation — would move things along, but, obviously, that didn't happen.) The 2004-05 lockout has totally warped what everyone considers acceptable — and unacceptable — in this lockout.
Because hockey owners, players, and fans all know what a real worst-case scenario looks like — canceling an entire season or more — anything short of that looks okay in comparison. It shouldn't. If there's an agreement soon, it looks like we could be in for a season lasting roughly 50 to 60 games. But this same sense of urgency back in early September could have meant a full 82-game schedule with a Winter Classic and All-Star Game. It could have meant the NHL could start to shed its reputation as the league that has an ugly labor dispute every few years that costs it games. It could have put the NHL in a position to keep building its fan base rather than hoping it can at least retain the diehards who will put up with shit like this every time because they can't help themselves.
Look, we get how negotiations work. We know that both sides want a better deal in the long run, even if it means losing money in the short term. We understand that the result of that system is that games can be lost, and sometimes lots and lots of games can be lost. Hockey fans are used to this by now, which is unfortunate. And of course, talks could still break down. It's probably not wise to get too excited about any of this until a new CBA is actually signed and training camps begin. But at least there's a sense of optimism now. Too bad this all didn't happen three months ago.
* This post has been corrected. Owing to an inexcusable brain fart, this originally identified Richter as a defenseman. We could explain how this happened, but we'll instead just say that we're very, very embarrassed.