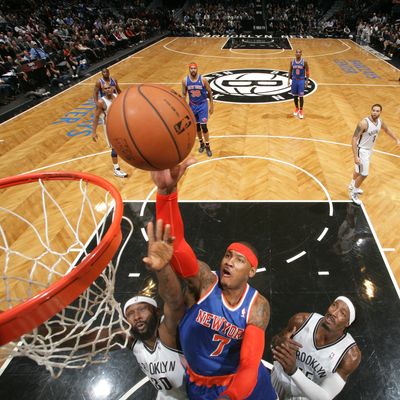 Carmelo Anthony might sit this one out.
Here we go again! Thanks partly to Hurricane Sandy and partly to some weird scheduling, the Knicks and Nets are set to play their third game in under a month tonight. At least there's a change of scenery: After splitting a pair of games at Barclays Center, the teams will take their battle across the East River and match up for the first time this year at Madison Square Garden.
And in keeping with the previous two games, the lineups might be slightly off. In game one, the Knicks were missing Jason Kidd. In game two, the Nets lacked Brook Lopez. This time around, both Kidd and Lopez (now off his minutes restriction) will participate, but Carmelo Anthony might miss his third straight game with a sprained left ankle. As has become the norm, he'll test the ankle right before game time, then either decide to play or put on a suit and cede his starting spot to Chris Copeland.
New York's "game-time decision" prognoses are impossible to read, so I can't give you a legitimate guess regarding the odds of Melo actually playing. Suffice it to say that, based on the way the Knicks' offense looked without him against Houston and the way the Knicks have struggled to defend Brooklyn and pretty much everybody else, New York's prospects are not good sans Melo. Then again, the Nets are in a funk of their own and 24 hours removed from a rough loss. Pick 'em.
So, yeah, the rivalry doesn't feel too potent as we head into game three. One team's badly depleted and the other team's just struggling. We can still probably expect a weird, ugly, close game and the usual intra-crowd hijinks (albeit on a different front), though, so feel free to get excited.