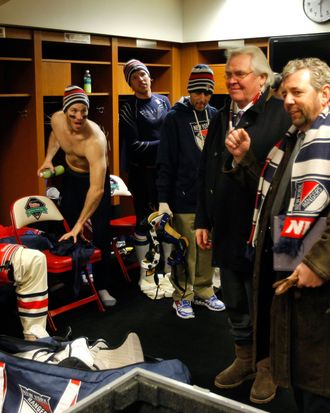 Jim Dolan (right), with Glen Sather.
We seem to have reached the "What the hell, let's see if this works" part of the NHL lockout. And so, tomorrow, the league and players union will meet, but this time, a different set of owners will be in the room, and neither commissioner Gary Bettman nor union head Donald Fehr will be in attendance. Anything's worth a shot right?
Over the weekend, Larry Brooks reported that Rangers owner Jim Dolan was interested in attending the meeting. Say what you want about Dolan, but he was instrumental in ending last year's NBA lockout, and as the owner of a big-market team that earns a profit, he doesn't share much in common with small-market teams that were bleeding cash under the most recent CBA. He wants this lockout to end, even if he may or may not think it's a strike. Dolan generally doesn't meddle with his hockey team as he does with his basketball team, but he knows that empty buildings are bad for business, so it's not hard to see why he'd want to be involved with talks.
Dolan and Bettman, however, are hardly pals, dating back to the dueling lawsuits of 2007 and 2008 over whether the Rangers could operate their own website. (The NHL won that fight.) In The Instigator, Jonathon Gatehouse's book about Bettman's NHL, the commissioner is asked what his relationship with Dolan is like now. Said Bettman, with a shrug of the shoulders, "It's okay."
So maybe that explains why Dolan won't be involved with the negotiating team that meets with players tomorrow. Or perhaps, as Brooks suggests today, Bettman has other reasons. Calling Bettman the "Canceller-in-Chief," Brooks notes that hard-line Bruins owner Jeremy Jacobs will be at the meeting, which is hardly encouraging to those hoping for news of a breakthrough that could eventually lead to an agreement.
Jim Dolan won't save the season tomorrow. You've really got to wonder at this point: Is anyone going to be able to save it before it's too late?