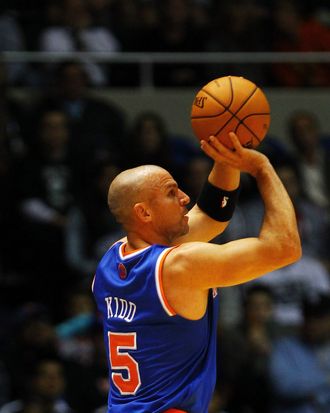 Jason Kidd is expected to return tonight.
We spoke yesterday about how the Knicks benefited from a pretty easy schedule over the last week or so. Ample off days and a few meek opponents were just the ticket after a grueling mid-November stretch. That could only last so long, though. There's a nice, fat home stand on the horizon, but for now, the Knicks will have to push through a pain in the ass of a long weekend: four games in five nights, including three on the road and the second of a back-to-back in Miami Thursday night. Speaking of Miami, thanks to the Heat's hilarious tumble in Washington last night, the Knicks could own sole ownership of first place in the Eastern Conference with a win tonight in Charlotte. It's been a while.
The good news going into the trip is that the Knicks' injury situation is — even with some bad news — in relatively better shape. Raymond Felton's thumb injury from Sunday turned out to be bad bruise, and he'll play his regular role tonight, albeit with a heavily bandaged left hand. Jason Kidd, meanwhile, is ready to return from back spasms, and will come off the bench for his first minutes (sans headband, thankfully) in over a week. The bad news is that Marcus Camby — he of the oddly sparse minutes in recent weeks — had an MRI done on his sore foot that revealed plantar fasciitis. It'll take him a little while to get over that, which isn't all too worrisome since, again, he wasn't playing. In a way, this is good news, since a legitimate injury might mean that Mike Woodson wasn't just stubbornly shelving his best rebounder while the Knicks struggled inside a couple weeks ago.
And tonight's opponent? Well, the Bobcats aren't your granddad's Bobcats, mostly because your granddad would have to be a biological marvel to be young enough to claim that sort of ownership of the Bobcats. But seriously, Charlotte is a surprisingly un-terrible team. Under new coach Mike Dunlap (formerly of St. John's), they're a young, feisty bunch with an aggressive, trapping defense designed to force turnovers and feed easy buckets for their fleet backcourt. They've lost four straight, beginning with a humiliating 45-point loss in Oklahoma City, but at 7-9, have already proven they can threaten an unprepared team. The Knicks have made a point of not overlooking this contest for the next one, but we'll see about that. It's also worth remember that the very, very terrible Bobcats of 2011–2012 took one of their seven wins off the Knicks. It sucked. Better take this one seriously, Knicks, especially with more challenging visits to Miami and Chicago (plus a visit from Carmelo Anthony's old friends, the Nuggets) following soon afterward.