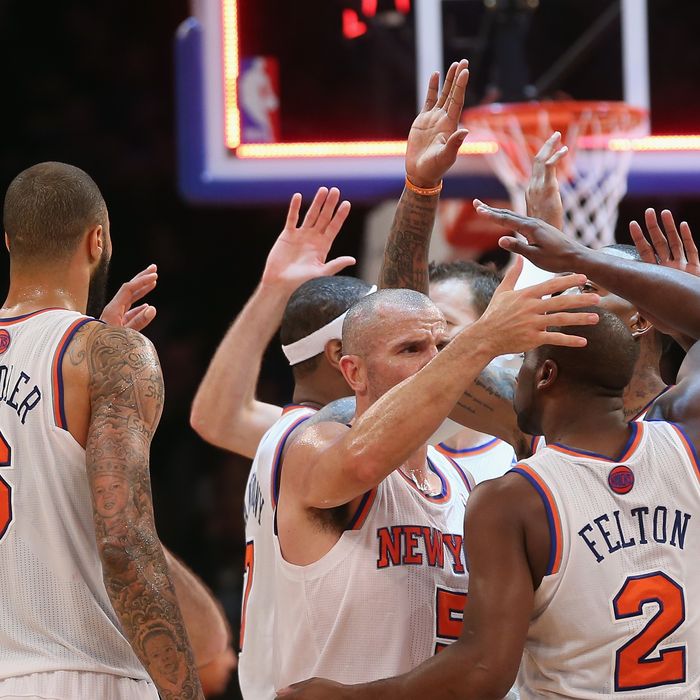 The Knicks went 3-1 this week and touched each other a lot.
Each week throughout the year, we'll track the highs, lows, ins, and outs of Mike Woodson's ever-evolving rotation. Come with us for this edition of the Knicks Power Rankings.
1. Tyson Chandler. (Last week: 2) We reflected last week on the Knicks' near-effortless handling of a soft patch of schedule. This week wasn't nearly as easy. After a brief rest, the Knicks played four games in five nights: three of them on the road, and two without Carmelo Anthony. Though they caved sans Melo against Chicago's top-flight defense, New York came out of that rough stretch in remarkably good shape, and they owed a lot of their 3-1 showing to the steadfast brilliance of Chandler. As has been mentioned in this space, Chandler's help defense to start the year looked a shade slower than it did last season. While there were more imperfect moments against penetrating guards in Charlotte (Kemba Walker) and against Denver (Ty Lawson), Chandler's interior D has generally improved to the usual level. And on top of that, the big man's work on the boards has been outstanding lately. After pulling down 17.5 percent of available rebounds in November (8.7 per game), Chandler's ripped down 22.3 percent through the first five games of November (13.8 per game), with increases on both the offensive and defensive backboards. He snagged 17 in Charlotte and 18 in Chicago, then swatted aside sneaky Nuggets to help hold Denver — the league's best offensive rebounding team — to five o-bounds in total. All that plus the usual ruthless, rim-thrashing deposits of sky-high lob feeds. The man is a mountain.
2. Carmelo Anthony. (Last week: 1) Melo gets bumped down a spot partially because Chandler was so terrific this week, but mostly because he missed two games after slicing open his middle finger while needlessly pursuing a loose ball into the Knicks bench. Hole in his finger or not, Melo's shooting numbers are down a bit, but his defense and passing out of double teams haven't wavered much. And even with the stitches and tape, Anthony hit two big shots to preserve New York's lead over the Nuggets in the closing minutes of Sunday's win.
3. Jason Kidd. (Last week: Injured) Oh, how very nice to have you back, Jason. The ball movement and help defense (if not the man defense, since he's so busy helping) are palpably superior with Kidd on the floor. The threes keep falling, too. Speaking of threes: I love Kidd's knack for roping defenders into fouling him on pump fakes every bit as much as I loathed it when he was a Knick opponent, but I fear for Kidd's safety. After getting bit on the scalp by a fouler earlier this season, Kidd took a sharp elbow to the skull and grew himself a huge lump during the Denver game. At least he's got a sense of humor about it.
4. Raymond Felton. (Last week: 3) Felton's bruised left hand guided him to two and a half bad shooting games (he heated up after shedding his padded bandage at halftime in Charlotte) and one brazen, brilliant, career-best performance against the Heat. We could dwell on the career-high 30 shots — many of them awful and most of them off — in Chicago or just continue salivating over that night in Miami. Clearly, we're gonna do the latter. Felton drilled an absurd six of ten threes in that one, several of them with the face of a much bigger defender right in his face, created offense for all his friends off the dribble, and crossed Udonis Haslem right out of his britches. It was a spectacular, disrespectful performance and I loved every second of it. But yeah, his shooting this past week was otherwise pretty awful, and he continues to look helpless against speedy guards dribbling over picks.
5. J.R. Smith. (Last week: 7) Man, what a fascinating player. I don't think I've ever seen someone play quite like J.R. has played over the last few weeks. This past week, he remained unable to hit anything at all — neither ill-advised step-backs nor quality catch-and-shoot attempts dropped — but continued to rotate well defensively and throw his weight around beneath the rim to help on the rebounding front. Of course, the highlight of it all was a rapidly vacillating ten-second stretch that culminated in one of the few big shots J.R. did hit: that buzzer-beating game-winner in Charlotte. So, in a week, we saw gritty, intangible contributions mixed with shameless chuckery in the face of a slump, plus a crunch-time spurt of both an infuriating lack of cognizance and clutch last-second redemption. The J.R. Smith experience is an EXPERIENCE.
6. Ronnie Brewer. (Last week: 4) Brewer was disappointingly quiet in his return to Chicago, but snaps for noble defense (read: weathering of much punishment) against LeBron James and four steals against the Nuggets. Brewer is routinely the guy I forget to include in my rankings, then end up placing pretty high when I finally get around to him. Silent but deadly.
7. Steve Novak. (Last week: 5) Big shooting night in Charlotte, huge shooting night in Miami, virtually nothing over Chicago's marauding defense, and a quiet but crucial contribution to New York's fourth quarter run against the Nuggets. This was the undisputed highlight.
8. Pablo Prigioni. (Last week: 6) Pablo fretted earlier in the year about struggling to find a rhythm in limited playing time. After getting some opportunities to spin for 25 to 30 minutes a night with Kidd out, he's looked a lot sharper in his return to short stints. It's always interesting to watch a star learn to condense his game — in Pablo's case: pick-and-roll passing, lots of defensive gambling, and the occasional basket if it's open — in a smaller role, and it seems like Prigioni's getting the hang of that as the season progresses. He makes his minutes count.
9. Kurt Thomas. (Last week: 10) Kurt's actually hitting some of those pick-and-pop jumpers now. He's made more field goals in five December games (seven) than he did in the entire month of November (four). Granted, he only played eight games in November. That just wouldn't have sounded as dramatic.
10. James White. (Last week: 11) White seems to have leapfrogged Chris Copeland in the rotation, as he played the role of emergy position-neutral semi-large person this past week. He played nicely, too. Hit hit jumpers, flashed a bit of expertise off the dribble, defended. Not bad, James.
11. Rasheed Wallace. (Last week: 9) I feel bad putting Sheed so low, but aside from playing some solid interior defense in Chicago, he had aterrible shooting week, then sat with a sore foot for the Nuggets game.
12. Chris Copeland. (Last week: 8) Copeland ceded all his non-garbage time minutes to White this past week, and unlike White, he doesn't have a generic name that I can search on Wikipedia for joke purposes. So, uh … hey, Chris.
Injured: Marcus Camby, Amar'e Stoudemire, Iman Shumpert