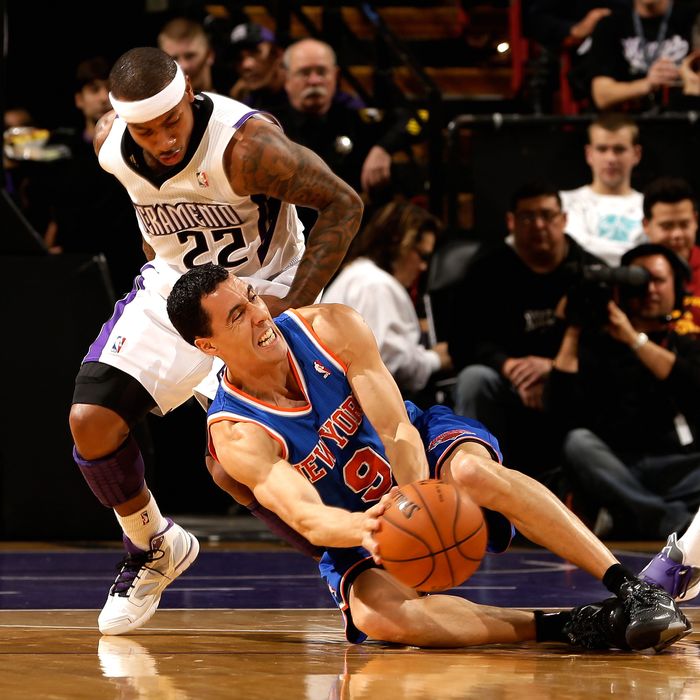 The Knicks blew a huge comeback to finish the week in Sacramento.
Each week throughout the year, we'll track the highs, lows, ins, and outs of Mike Woodson's ever-evolving rotation. Come with us for this edition of the Knicks Power Rankings.
1. Carmelo Anthony. (Last week: 1) Sadly, this is another top ranking earned mainly by absence. Melo worked through a hyperextended knee for an impressive but futile 34 points on Christmas Day in L.A., then missed the rest of New York's road trip. The Knicks missed him.
2. J.R. Smith. (Last week: 2) When Melo's out, J.R. is Melo. Sometimes — as in Sacramento — that doesn't bode so well, because teams know the guy's given to making tough shots and eschew a double team in favor of just hoping he's off. J.R. led the Knicks in that one, but got a little too enamored with his off-the-dribble, off-balance efforts and missed on some important possessions. On the other hand, the game in Phoenix showed how J.R.'s proclivity and talent for HORSE shots can pay off in Melo's absence. Not many earthly creatures can hit the shots Smith hit to overcome the Suns in crunch time.
3. Tyson Chandler. (Last week: 3) Chandler did his darnedest to expand his game in support of some depleted lineups. Chandler stayed rebounding and finishing inside, and we even saw the big man stray outside the rim's littoral zone, putting his pristine field goal percentage at risk with a couple hooks and mid-range jumpers, most of which actually dropped. If I may quibble: Tyson dropped a few too many passes on Christmas against the Lakers and contributed to a close, heartbreaking Knicks loss in Sacramento by missing six of nine free throws. He shot 60 percent from the free throw line in December after hitting a sparkling 79 percent in November. Considering how often Chandler gets hacked (up to six attempts per game this month), it'd mean a lot for him to bump that percentage back up in the new year.
4. Jason Kidd. (Last week: 4) The great news is that Kidd's three-point shot seems to have returned. The less great news is that, for all the extra shooting Kidd brings in place of Raymond Felton, his inability to penetrate with any urgency (Kidd gets the occasional layup, but the drive occurs in a series of still photos) loses New York some of the motion that typifies the offense when it's at its best. He's also been coughing up turnovers at a rate not befitting New York's usual stinginess. Kidd is amazing and crucial to any chance the Knicks have with or without Melo and the rest of 'em, but his work as starting point guard does, in some ways, illuminate the things Felton was doing competently that we might have taken for granted.
5. Chris Copeland. (Last week: 7) Cope just hits shots, man. When J.R. plays Melo, Cope plays J.R. He's been deadly from the corners and generally reliable to fill open space and find the net from anywhere. And while he's not a great defender, Copeland occasionally makes up for getting beat by making athletic trailing blocks. (He was also on the wrong end of such a play when the diminutive Aaron Brooks swatted him from behind in Sacramento, but still … )
6. Marcus Camby. (Last week: Injured) Not a bad return for Camby, who's a little rusty in the pick-and-roll, but can really vacuum up rebounds in even just a few minutes of court time.
7. Pablo Prigioni. (Last week: 6) Pablo's minutes are predictably up since Felton went down, but he's yet to show the offensive burst he demonstrated back when Jason Kidd missed a few games. He'll hopefully find some rhythm running the pick-and-roll with the occasional basket and minimal turnovers, because Felton's going to be out a while.
8. Steve Novak. (Last week: 8) Novak has trouble finding shots without the usual offensive creators and help-drawers sharing the floor with him and his defense is so, so bad and opposing teams structure their entire second unit offenses around how bad his defense is.
9. Raymond Felton. (Last week: 5) Felton did play in that Lakers game before succumbing to the fractured pinky. He shot way too much for someone with a fractured pinky. We'll still miss the li'l penguin.
10. Kurt Thomas. (Last week: 10) Thomas played a few extra minutes per game this past week, which meant a few extra mid-range jumpers and rebounds. Oddly, no more hard fouls.
11. James White. (Last week: 11) White's actually been in Anthony's stead, but he's yet to achieve anything near Copeland's level of production. White's good for a nice, loping drive or two and the odd defensive play, but nothing too meaningful.
12. Ronnie Brewer. (Last week: 9) Still sinking. Ronnie hasn't connected on a jump shot since roughly 1991 and he's not playing enough defense to warrant regular minutes. Ronnie's currently at "start, sit promptly, then hardly play anymore" status, and he might fall out of the rotation entirely at this rate.
Injured: Amar'e Stoudemire, Rasheed Wallace, Iman Shumpert.