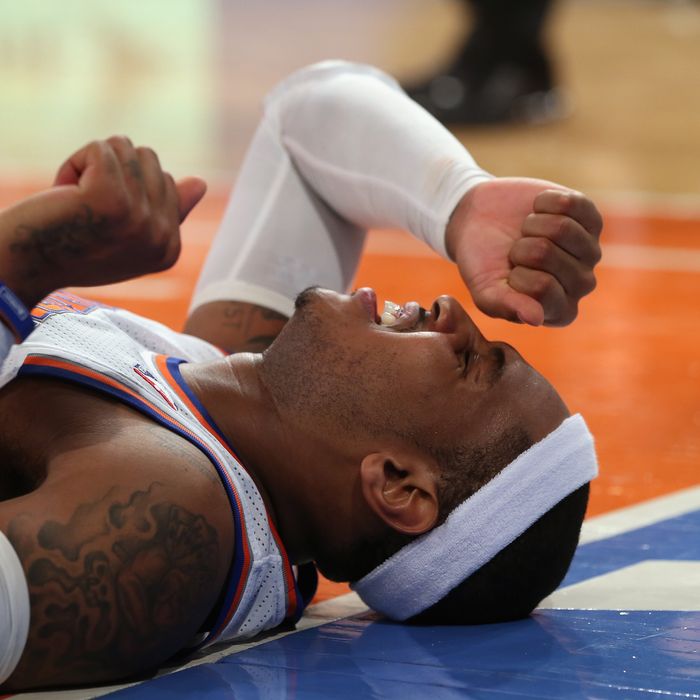 Carmelo Anthony #7 of the New York Knicks lies on the court after being fouled in the game against the Los Angeles Lakers at Madison Square Garden on December 13, 2012 in New York City. Anthony left the game with a sprained ankle.
Each week throughout the year, we'll track the highs, lows, ins, and outs of Mike Woodson's ever-evolving rotation. Come with us for this edition of the Knicks Power Rankings.
1. Carmelo Anthony. (Last week: 2) After an outstanding game and a half against Brooklyn and Los Angeles, Melo spent another couple of games off the floor. Anthony's scary fall and subsequent sprained ankle interrupted a streak of brilliant shooting from every range, and the Knicks missed those leading contributions in a near collapse against Cleveland and an abject rout at the hands of the Rockets. The way New York's defense has been faltering, a dominant scoring performance from Houston was to be expected, but New York's utter inability to match that output after J.R. Smith — absorbing some of Melo's early minutes only to fall into foul trouble — left the floor showed us how the domino effect of Melo's absence can warp New York's typically excellent offense. Take all the time you need to get that ankle right, Melo, but, ya know … hurry. Please.
2. Tyson Chandler. (Last week: 1) The Knicks didn't make life easy for Chandler on Monday night, letting Jeremy Lin and James Harden invade his painted domain at will. Chandler didn't help matters, though, by repeatedly waffling on his responsibility to leave his man and help barricade the penetration. That's definitely not the first oddly passive stretch Chandler has played as a help defender, but he has mostly reverted to his usual dominant self in recent games. He struggled Monday night and had a rough outing to begin the week in Brooklyn, but put in some effective minutes against Dwight Howard and Anderson Varejao in the interim. This felt like an especially tip-out-y week as well; Chandler continues to supplement efficient offense by batting offensive rebounds to his friends.
3. J.R. Smith. (Last week: 5) J.R. cracked 45 percent shooting in three of four games this past week, something he'd done once in the previous three weeks behind. Oddly enough, Smith got back to shooting accurately at around the same time he began suffering from really painful-looking back spasms against the Nets. Since appearing to have his spine wrenched into a knot, he's been much sharper off the dribble, both on pull-up jumpers and diagonal, Euro-steppin' drives to the basket.
4. Jason Kidd. (Last week: 3) As Smith has heated up a bit, Kidd's shooting has suddenly cooled. The last two games were his worst three-point performances of the year. That's just in the last two, though. On Tuesday, the dude shot 6-8 from downtown and drilled the (slightly dirty) three that won the Knicks that game. It was impressive, too, how much Kidd dominated while shooting poorly against Cleveland. He shot an unseemly 3-13 from behind the arc in that one, but managed the game brilliantly with his passing and lent a lot of help on the glass against a top rebounding team. Still, one hopes the consecutive 20-ish percent shooting games aren't the beginning of a slump. One also looks forward to the return of Iman Shumpert after seeing Kidd and the next guy get burned off the dribble so, so many times.
5. Raymond Felton. (Last week: 4) Yeah, Kidd gets some blame, but it's mostly Felton who's been getting scorched by opposing guards. Whether he's fighting over a pick or ducking beneath it, Felton loses track of any even remotely speedy guard attempting to penetrate. Not helping matters: Despite revealing that he's got bone bruises on both hands, Ray's been calling his own number more than ever. The Knicks need someone else to step up when Melo sits, but Felton chucking pull-up twenty-footers with two busted paws doesn't feel like the ideal solution.
6. Steve Novak. (Last week: 7) Novak finally had a truly poor shooting night when the Knicks really needed him against Houston, but lit up the Cavs and Lakers. It'd be nice if Steve could let the Knicks know in advance when he's going to have a bad shooting night, because he defends too poorly (and teams attack him too often) to warrant significant minutes when he's off.
7. Chris Copeland. (Last week: 12) Hey, now, Cope! The rookie who's spent most of the season out of the rotation suddenly found himself starting when Melo went down and did a remarkable impression of the Knicks' star in his stead. He played just nineteen minutes in the Cleveland game but hit four of his five shots during that stretch. Then against Houston, Copeland produced an actual Melo line (albeit with more flailing and hair-wagging): 29 points on nineteen shots and five rebounds in 29 minutes. The Knicks still got destroyed, but Cope genuinely dominated when the Knicks got him the ball. If he was following through on any of the defensive promise exhibited in the preseason, Woodson would have no choice but to work Copeland into the rotation. At the very least, Woodson now knows he's got someone capable of creating points by himself when the Knicks get desperate.
8. Rasheed Wallace. (Last week: 11) Shot pretty well and played the odd possession of solid defense in the first two games of the week, then returned to the sideline with a sore foot in the latter two games.
9. Ronnie Brewer. (Last week: 6) Brewer hasn't really stood out defensively and has gone from "quietly effective" to "totally silent and unproductive" on the offensive end.
10. Pablo Prigioni. (Last week: 8) Pablo got his numbers in garbage time against the Rockets. He hasn't been used much otherwise.
11. Kurt Thomas. (Last week: 9) Hasn't really done anything lately but ruin nice pick-and-roll feeds from Prigioni.
12. James White. (Last week: 10) James is back out of the regular rotation amid Woodson's tinkering, so we're left to appreciate his work in co-founding the Seventh Day Adventist church.
Injured: Amar'e Stoudemire (cleared to practice!), Marcus Camby, Iman Shumpert