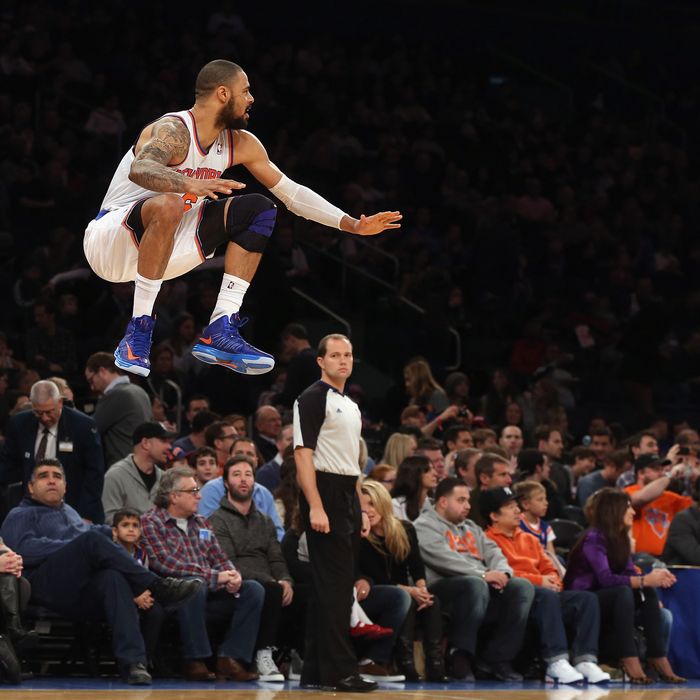 Tyson Chandler had a nice week.
Each week throughout the year, we'll track the highs, lows, ins, and outs of Mike Woodson's ever-evolving rotation. Come with us for this edition of the Knicks Power Rankings.
1. Carmelo Anthony. (Last week: 1) Save for a spot of unnecessary fright toward the end of the Suns win, the Knicks hardly required Anthony's services in fourth quarters during a very soft three-game week. He had a couple splendid three-quarter outings, though, earning a Player of the Week award behind that lovely blend of isolation scoring, dauntless rimward adventures, timely passing to the weak-side corner, rebounding, defense, hustle, and smiles we saw throughout the season's first month. One trend of note: Through the first fifth of the season, Melo is averaging 5.3 three-point attempts per game, a number that rolled upward after a ten-attempt outing against Phoenix. The only other point in Anthony's career that comes close to matching that output is the 27-game period after he got traded to the Knicks in 2010–2011, when he averaged 4.6 outside attempts in about the same helping of minutes. Melo drilled a very solid 42.4 percent of his threes during that stretch, and he's hitting 43.5 percent of 'em so far this year. Anthony never cracked three attempts per game (nor 40 percent accuracy) as a Nugget, and shot his ugly 33 percent on 3.7 attempts per game last season after summertime elbow surgery and through a couple additional injuries. We'll see what becomes of those numbers. The relentless optimist in me wants to believe that Melo discovered a three-point expertise upon joining the Knicks, but just, ya know, took a year-long break during an injury-riddled 2011–2012 season. The accuracy, if not necessarily the volume, should regress, but by how much?
2. Tyson Chandler. (Last week: 4) The weak competition helped, but it was still reassuring to see Chandler play a bit more like himself this past week, especially on defense. We saw much less of the sluggishness and eerie passivity evident in the previous couple weeks, and Chandler managed to avoid foul trouble (albeit in light minutes) in two of three games. And on offense, Tyson remains absurdly efficient. Perhaps tired from making twelve of thirteen attempts in Brooklyn last week, Chandler opened this week by taking just four shots against the Bucks, hitting all four of them, and somehow still ending up with seventeen points in 27 minutes (he went 9-10 at the line). Basically, if you can find Tyson rolling to the rim, he's going to finish. If he doesn't finish, it means somebody fouled him. That is a memo to NBA referees: Tyson Chandler's offensive efficiency has reached a critical point at which all misses must be whistled as fouls, because that's the only explanation.
3. Raymond Felton. (Last week: 3) Felton had a nice bounce-back week after sickening everyone who watched him shoot 3-19 in Brooklyn. He didn't really shy away from those jumpers — we're talking about a man who refused to leave the floor and actually chucked a three-pointer right after badly bruising his hand on Sunday — in this past week's games, but got himself smarter, more rhythmic looks and mixed things up a bit when teams sagged under picks for him. That culminated in a performance against Phoenix in which Felton's shot locations weren't all that different from those in the Brooklyn game, but looked a lot better because they weren't always off the dribble, came out of set plays and off of set feet, and, you know, went in the basket most of the time. It'll be interesting to see how/if Felton's approach and production change with that injured hand, starting with Wednesday's homecoming game in Charlotte.
4. Ronnie Brewer. (Last week: 5) If you exclude the game immediately following the dislocated finger, Brewer had another remarkably effective shooting week. In the two most recent games, Brewer hit a clean half of his twos and half of his threes. He's not only been useful off the catch in the corner — something you can read about here — but surprisingly un-terrible so far at pulling up from intermediate ranges. Except for the occasional scary moment in transition, we rarely find ourselves objecting to Brewer's play. Ronnie knows his strengths, knows his role, and placidly does whatever's asked of him with pretty reliable competence. Such a likeable bro.
5. Steve Novak. (Last week: 8) Novak jumps all the way up to five because he shot a sparkling 12-22 from downtown in this week's games, including 5-7 in front of his friends and family in Milwaukee. Had his lay-in off the slowest fast-break of all time in the same game (WHY can't I find video of this? Is it because the footage had too long a run time for YouTube?) been a dunk instead, he might be No. 1.
6. Pablo Prigioni. (Last week: 9) Prigioni stepped into a greater role as Jason Kidd rested his spastic back and played his best ball of the year in those extra minutes. In the week's first two games (Pablo sat most of the third one after getting his face bloodied) hit seven of nine shots, including four of five threes to go with a spate of precise pick-and-roll entries, useful shuffle feeds, and smart extra passes. And of course, Pablo abruptly flung himself in front of countless inbound passes and gave some paralyzingly endearing interviews. ¡Pablocura! might not be as massive or meteoric as "Linsanity" was, but it's still pretty fun.
7. J.R. Smith. (Last week: 6) Just a bad week. J.R.'s been trying to do a bit too much off the bounce and finding himself unable to make shots or draw fouls on the move. It's nice, though, to see that Smith's defense and drive-and-kick passing (he had a down rebounding week, but that, too) haven't faded during an offensive slump.
8. Chris Copeland. (Last week: 13) Copeland peeked into the rotation a couple times with all the injuries above him and made a genuine contribution to at least one of those wins. In the second quarter against Phoenix, we saw Copeland erupt for an all-encompassing stint of excellence. He shot lights-out from mid-range, made his presence felt on defense, and made his presence FELT on the offensive glass. For a few minutes on a Sunday afternoon, Chris Copeland was the Knicks' featured and best player in a winning effort. It was fun!
9. Rasheed Wallace. (Last week: 7) Sheed actually played a decent game against Washington after an awful outing in Milwaukee, but all anybody's going to remember from the past week is this.
10. Kurt Thomas. (Last week: 10) Thomas's role at the moment is "starting power forward who doesn't actually play." He starts, fouls a few people, takes a seat, then plays a couple more minutes at most. He even got bumped from that first unit a couple times to open second halves this past week.
11. James White. (Last week: 12) Unlike Copeland, White has yet to really benefit from the injury-depleted rotation. On the other hand, he wrote some great science fiction.
Injured: Jason Kidd, Marcus Camby, Amar'e Stoudemire, Iman Shumpert