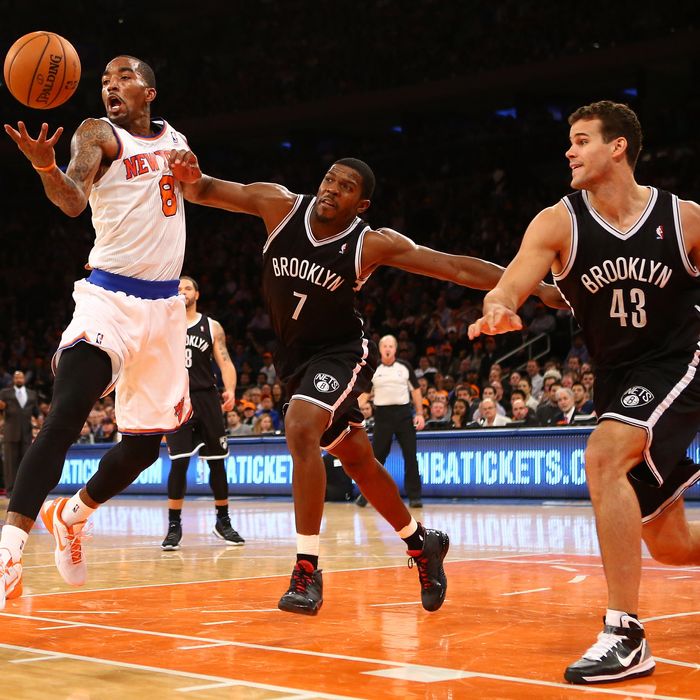 J.R. Smith had a terrific week for the Knicks.
Each week throughout the year, we'll track the highs, lows, ins, and outs of Mike Woodson's ever-evolving rotation. Come with us for this edition of the Knicks Power Rankings.
1. Carmelo Anthony. (Last week: 1) Melo's return to the lineup helped the Knicks salvage a couple victories despite their own spotty defense (soundtrack for this week's rankings). The first game back against Brooklyn was Melo's best of the week: Even on a sore ankle, he danced around and through the Nets' defense for all sorts of first half buckets. Later, when Avery Johnson sicced multiple defenders on Melo, he happily deferred to his friends. This is noteworthy, because in both the Chicago loss and the Minnesota win, we saw a Melo a bit more intent on isolating and calling his own number, perhaps because his shooters had gone a bit cold.
2. J.R. Smith. (Last week: 3) What an outstanding week J.R. had. To begin with, Smith stayed sharp from the field, hitting a solid percentage of his threes and pull-up twos. Even better, he attacked the rim some and actually had some success doing so, showing off more of those splendid Euro-steps he must have been honing in practice (Then again, one doesn't always need to Euro-step). And, as is often the case when J.R.'s at his best, the excellence extends to the glass (led the team with ten rebounds on Friday) and to J.R.'s passing game and defense. Smith was New York's best point guard – both in the pick-and-roll and off simple dribble-drives – at several points throughout the week. It's worth noting again that this recent streak of efficient play began around the time Smith suffered from terrible back spasms in Brooklyn. Something to keep in mind next time he's in a slump.
3. Tyson Chandler. (Last week: 2) Later in the week, Chandler was handcuffed by Chicago's pick-and-roll defense, then solid against Minnesota. Before all that, he played an absolutely monstrous second half against the Nets. Dude damn near alley-ooped a crater into the Garden floor (0:40 is my favorite. That's as forcefully as Chandler's ever dunked as a Knick. It was so, so satisfying.)
4. Jason Kidd. (Last week: 4) Still can't hit anything – his misses against Minnesota were clearly astray from the moment of launch – and still giving up a handful of open lanes and uncontested threes on defense. Still rebounding and making enough great passes that we forgive him.
5. Raymond Felton. (Last week: 5) Felton's drops in shooting percentage aren't much worse than any of the other slumping Knicks', but he tends to get scapegoated because he's rarely missing good shots out there. To me, Felton's issue isn't so much that he seizes so many open opportunities over picks, but that he so rarely squares his body or sets his feet on those attempts. It's like he decides mid-step that it's shooting time. Add in the fact that Felton has severe bone bruises on both palms, and you get some truly lackluster shots. No two looks are the same, which is something you'd hope shooting coach Dave Hopla could fix, but no dice so far. Felton's assists are down, too, and he's one of those culpable for New York's consistently porous perimeter defense. Quick guards must look forward to taking Felton and Kidd off the dribble.
6. Pablo Prigioni. (Last week: 10) Pablo gets a high ranking solely for hitting the three that elicited this reaction from Mike Woodson.
7. Chris Copeland. (Last week: 7) Cope will likely never touch the garbage time explosion that was last week's performance against Houston, but every time he spins, he hits a few shots. As long as Steve Novak's struggling, Cope makes more sense as a guy who can replicate at least a portion of the shooting with a higher propensity to drive and better defense.
8. Steve Novak. (Last week: 6) And Novak is struggling indeed. The guy's just streaky, I guess, and he's currently on a streak of missing even the openest of looks. Meanwhile, I don't think the guy played a single positive possession of defense this past week. Everybody targets Novak and everybody beats Novak.
9. Ronnie Brewer. (Last week: 9) Ronnie's killing the starting unit. It hurts me to say it, because I love him so. Early in the season, he hit all those corner threes and really punished teams for doubling on Melo or helping to stop the pick-and-roll. Now, he's punishing the Knicks every time they give him the ball. And for a guy with a strong defensive reputation, I haven't detected nearly enough solid positional D to warrant minutes right now.
10. Kurt Thomas. (Last week: 11) Plays five minutes, hits a jumper, sets a screen, retreats to the bench to do sudoku or whatever.
11. James White. (Last week: 12) Barely any minutes for White this week, so we'll just acknowledge his participation in the Great Train Robbery of 1963.
Injured: Marcus Camby, Rasheed Wallace, Amar'e Stoudemire, Iman Shumpert.