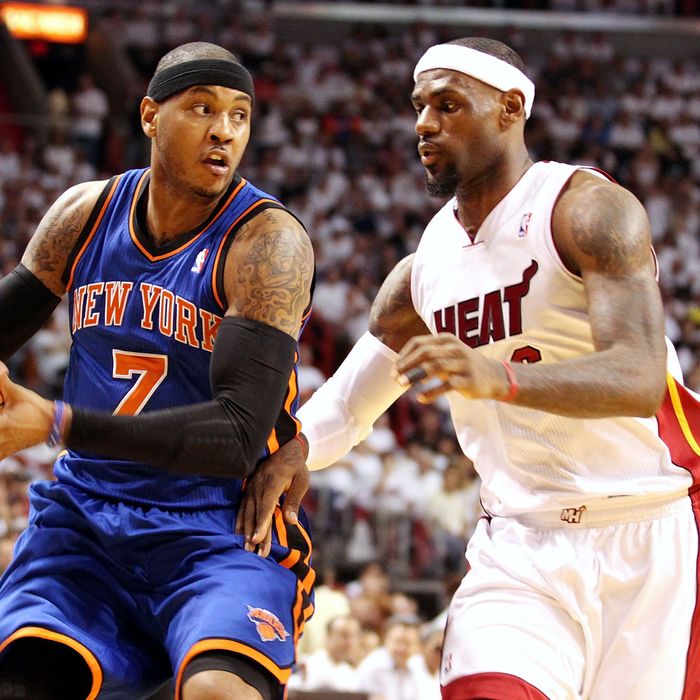 Always fun when these guys do it up.
Considering the Heat just won a championship and the Knicks have won one playoff game in twelve years, it would be quite the stretch to call the two teams "rivals." You can call the old nineties teams rivals, but everyone who played in those games is either dead and/or currently on the Knicks roster. That said: These guys sure seem to run into each other a lot.
They've played a lot of memorable games in 2012, we'll say that. There was the famous game right before the All-Star Break, when the Heat swarmed poor Jeremy Lin in front of a national TV audience. We had the five playoffs games. We had the opener this year, when the Knicks blitzed the Heat, a team that looked, to be honest, a little hungover. The Knicks are 2-7 against the Heat in 2012. But right now, they're a half-game ahead of them in the Eastern Conference. Which means tonight's nationally televised game in Miami is going to be awfully fun to watch.
The Knicks are far less likely to catch the Heat by surprise this time, like they did in the season opener. The Heat are coming off a stunning loss to Washington and will be eager to reassert their inherent Heat-ness. The Knicks should get their best shot tonight, or at least the best shot anyone gives during the regular season. (One hopes that if the Heat only give 90 percent of their best shot, David Stern does not fine them.)
The early word is that Carmelo Anthony, despite his five stitches, should be able to play tonight. (Saving himself from a David Stern fine too, one supposes.) You can make a strong argument that this is the toughest game the Knicks have until Christmas. Three of their next four games are on the road (at Miami, at Chicago, and at Brooklyn), and then after that, they have a six-game homestand, ending in the Christmas Day game at Los Angeles. If the Knicks can go, say, 2-2 in these next four games, they could make some real headway here. (After all, they are undefeated at home so far.) A win tonight is unlikely. But if they can pull it off, look out. No matter what: Everyone wants to be judged against the best. The Knicks have feasted on some lesser competition of late. We'll get a good idea of where they stand tonight.