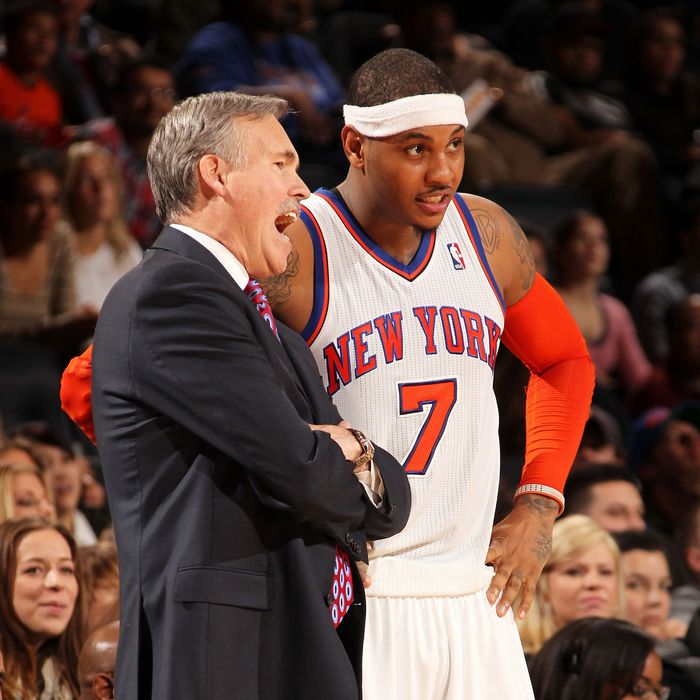 The last game Mike D'Antoni coached at Madison Square Garden very well might have been the lowest point of his professional career. The Knicks had already lost four in a row, Linsanity was waning and Carmelo Anthony was openly questioning his coach. In the fourth quarter of a 106-94 home loss to the Philadelphia 76ers, D'Antoni threw up his hands and nearly gave up, benching both Anthony and Amar'e Stoudemire. "I guess he was saving me for tomorrow's game," Anthony said at the time. The Knicks lost to the Bulls the next day, and the day after that, D'Antoni had resigned. He wouldn't return to the Garden again … until tonight.
D'Antoni brings in his Los Angeles Lakers, a team that's in a position dangerously close to the one the Knicks were in last time he was here, to play the Knicks at the Garden tonight. These Lakers do sort of look like those Knicks: a talented team that can't pull it together, one fighting with itself, one he's desperately trying to corral before it careens off the tracks. He has more support from his players than he did last time, but then again, he's only been around a few weeks so far.
D'Antoni is sure to be booed when he's introduced tonight, and as much as we loved the guy when he was here, it's difficult to blame MSG for its reaction. After all, ever since he left and Mike Woodson took over, all the problems that D'Antoni was so insistent couldn't be fixed have not only been fixed, the Knicks are better than D'Antoni himself even seemed to dream they would be. The Knicks, coached by Mike Woodson, are playing as a team and winning at a conference-best rate. The Lakers, coached by Mike D'Antoni, are the most drama-filled team in the league … just like the Knicks were when he was here.
This is a little unfair to D'Antoni, but them's the breaks. We were flabbergasted and thoroughly depressed when D'Antoni left last year … and we were absolutely wrong. So, so wrong. Woodson was the right person to coach this team, and Anthony was never going to take his game to the next level under D'Antoni the way he has this year. Not that "how the Knicks are doing" is even on the top 50 of D'Antoni's concerns right now: The guy has his own problems. Solving the Lakers riddle is going to be even tougher than solving the Knicks one. Of course, Woodson made that one look kind of easy.
Anyway, we know D'Antoni will be booed, and we'll feel bad for him. We wish him well. But we can say this now: We're so glad he's not the coach of this team anymore.