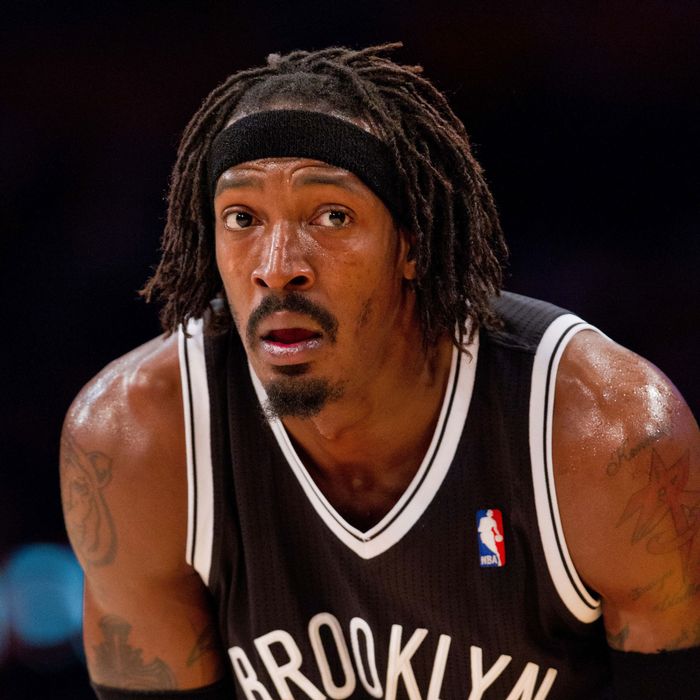 The Nets Power Rankings, written by the excellent Devin Kharpertian from the Brooklyn Game, run every Thursday. Enjoy.
Well, shit. After a 3-10 December skid, the Brooklyn Nets announced this morning that they have fired coach Avery Johnson (on his wife's birthday, no less), naming current assistant and former NBA head coach P.J. Carlesimo as his interim replacement. Both Johnson and general manager Billy King stressed that the decision was completely an ownership choice and had no input from the players. As a result, Avery Johnson gets the coveted #0 on the only power ranking he'll ever show up on. Best wishes to Johnson going forward.
Now, on to the player rankings from yet another awful week of Nets basketball:
1. Gerald Wallace. Seriously, not a soul deserves the No. 1 spot for the Brooklyn Nets this week or this month. Not after a 3-10 skid, punctuated by embarrassing losses to New York (100–86), Boston (93–76 on Christmas), and Milwaukee (108–93 the day after) that has left them reeling after the team's best fifteen-game start in franchise history. Crash said it best: He's fucking pissed off, and as an insatiable competitor, he can't handle content teammates anymore.
Gerald Wallace is the player whom every team could use, and yet no team can win with him as their best player; thus, it's no coincidence that Wallace sits atop this list after yet another dreadful week. Still, Crash is No. 1 on purpose and with purpose; despite his questionable outside shooting, he's the only player on the floor who appears to give a modicum of a shit at any and all times when he's on the floor. He's gotten into tiffs with Kevin Garnett, played the three-positioned "power point forward" monster, blocked dunks, and facilitated better than any other Net.
2. Brook Lopez. One encouraging tidbit from this past week: Lopez, who's still nowhere close to his pre-foot-injury levels from this season, did average 17 points, eight rebounds, and two blocks in the team's three games this week, drawing an average of sixteen fouls while only committing two himself. The bad: He only shot 43.2 percent and still looks as slow as Brook Lopez on defense.
3. Joe Johnson. Before the season, all I heard was that the Nets should expect the most underwhelming 20-point, five-rebound, five-assist performances of a lifetime. Still waiting on those. Johnson is competing with Deron Williams for the most maddening Nets player. At least with Andray Blatche you expect a roller-coaster ride that puts Nitro to shame, but with Johnson, the Nets were supposed to get boring consistency. They haven't. Johnson floats effortlessly between hitting good shots and rimming out tough ones and bricking open threes and pounding smaller guards in the paint. The Nets have waited 28 games for him to put together a rhythm that lasts beyond a two- or three-game stretch. At 14-14 already, the season's flying by, and he hasn't yet.
4. Keith Bogans. The Bogo Stick earns a spot here solely for backing his way into a starting spot as Kris Humphries's production caught up with his reputation. Bogans is on the floor to do two things — play respectable system defense and shoot corner threes. For the most part, he's done those two things this week. Jolly underwhelming show.
5. Jerry Stackhouse. Forget that he's shooting 8 percent from three this week. Thirty-eight-year-old Jerry Stackhouse dunked in a professional basketball game and doesn't care about anymore of your goddamn questions.
6. Andray Blatche. Blatche remains the Greatest Show in Sports™. This week he's taken a little extra time to flaunt his point center skills, seemingly looking to dribble upcourt after every rebound regardless of which point guard is begging for the ball. Sometimes it works and the basketball world freezes in time, if only for a brief moment, as a seven-footer slices and spins his way into the lane, or throws a no-look pass in midair for a layup. Other times, he looks like an oversized child over-enamored with and overwhelmed by his ability to dribble a basketball. Even the official Brooklyn Nets website is getting in on the fun, as their latest poll asks what the most enjoyable Andray Blatche moment is and includes "Point Center Everything." (As of this writing, PCE is leading with 36 percent of the vote.)
7. Reggie Evans. Similar to Wallace, you know the taste of the rain Evans pours: relentless energy directed at loose balls. True to form, Evans grabbed fifteen rebounds in 37 minutes, but didn't do anything else of note, unless you include dive-bombing Ersan Ilyasova.
8. Deron Williams. Williams encountered another rough week, most notably a hushed Christmas performance against Boston in which he only shot from the floor seven times. As Williams noted, the Celtics doubled him early and often, and as the point guard, Williams swung the ball to his open teammates. After playing in every game this season, Williams finally sat Wednesday night against the Milwaukee Bucks to rest his injured right wrist. Hopefully all he needs is time.
9. Tyshawn Taylor. Taylor only got major minutes after Deron Williams missed his first game of the year owing to his bruised right wrist, and delivered admirably in that limited time; he attacked the basket surprisingly well for a second-round pick, hit a three-pointer, and kept ball movement afloat more than his one assist would indicate. Encouraging small sample.
10. MarShon Brooks. Brooks, who's been buried so deep in Johnson's rotation he might as well wear a Springfield Armor jersey, got a chance to play twenty entire minutes on Wednesday night and didn't look completely out of sorts. He appears to be pressing to get his buckets when he's on the floor, but since he's naturally a scorer, you expect that to some degree. With Stackhouse slowly losing his grip on a twenty-minute rotation spot, minutes will open up. If he can perform, Brooks should get them.
11. C.J. Watson. Watson picked up his first chance to audition as a starting point guard thanks to Deron Williams's wrist injury and promptly bombed it, shooting 2-12 from the field with only two assists in 31 minutes. Watson is a dream as a backup point guard, but his struggles from the field this week — just 24 percent shooting in three games — leave the Nets wanting more.
12. Kris Humphries. Poor, poor Kris Humphries. Lost his spot in Avery Johnson's starting lineup as the Nets tried out a new small-ball look with Gerald Wallace at power forward, then Johnson gave Humphries a shocking DNP-CD. The next day, an MRI revealed Humphries had a mild abdominal strain, keeping him out of Christmas's brawl reunion against Boston and Wednesday's game against Milwaukee. Humphries has gone from one of the key components of a balanced Nets starting five to a DNP-CD at the back of the bench. Hey, at least he's got holiday spirit. And maybe P.J. will like him more.
Not ranked: Tornike Shengelia (nine minutes this week), Mirza Teletovic (two minutes this week), Josh Childress (DNP)
Devin Kharpertian is the managing editor of the Brooklyn Game.