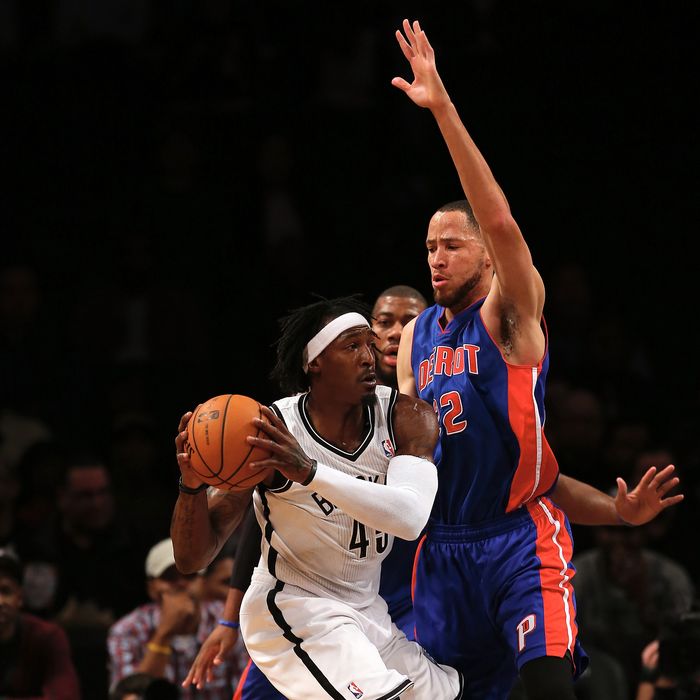 One of very few Nets playing well.
The Nets Power Rankings, written by the excellent Devin Kharpertian from the Brooklyn Game, run every Thursday. Enjoy.
1. Joe Johnson. Johnson wins the dubious distinction of No. 1 because he was the only Brooklyn Nets player to look sentient this week. Johnson has started to hit his jumpers with the regularity the Nets paid for this off-season, hitting the game-winner for the Nets' only victory this week in a double-overtime isolation against the Detroit Pistons and splashing shots from all over the floor en route to 81 relatively efficient points in this week's four games. One worry: Johnson's averaging nearly 43 minutes per game over this stretch, which is a bit alarming even considering that one game went to double overtime. Note that Johnson's "decent" week earns him the No. 1 spot, by far.
2. Gerald Wallace. Despite missing a potentially game-winning three against Utah and getting eaten up by Carmelo Anthony last night — as excellent Twitter user netw3rk said last night, Melo might own more of the Nets than Jay-Z does — Wallace has played a fun week of basketball, showing off his athleticism with some high-flying dunks and, more notably, three blocks at the rim in one game. He, clearly and unfortunately, is not the type of player that you want as your second best player, but every team in the league could use a Gerald Wallace in their starting lineup.
3. Andray Blatche. Andray Blatche blocked a fast-break layup and two possessions later isolated himself with reigning defensive player of the year Tyson Chandler, which ended in an obvious travel. Andray Blatche lives for those moments when he can play point guard despite being the team's backup center. Andray Blatche somehow shot 51.4 percent from the field this week. By the end of the season, I am either going to be a complete, staunch believer in Andray Blatche or I will have been driven insane by him. Only time will tell.
4. C.J. Watson. You know it's been a bad week when Andray Blatche and C.J. Watson are both coming off the bench and still rank in the top four. Watson has done something that seems impossible for other Nets point guards: hit open shots. The Nets have found him on numerous occasions wide open in the corners thanks to ball movement, and he's just knocked them down.
5. Keith Bogans. Hit three three-pointers in a half against the Knicks. Yup, in a week like this, that's all you need to crack the top five.
6. Brook Lopez. Not nearly athletic enough to fend off Tyson Chandler, not involved in the offense enough after his right foot injury, Lopez was moved off his minutes restriction in the last two games and given the impression he should have still been on it. Poor Brook Lopez. His defense at the beginning of the season was almost inspired, doubly so for a player of his limited athletic ability, but the predetermined pick-and-roll coverages seem to change from possession to possession.
7. Reggie Evans. Evans does one thing exceptionally — rebound the ball — and his rebounding took a slight dive this week, grabbing just six rebounds per 21.3 minutes of play in four games this week. He also has not scored a field goal in the last four games, most notably missing a putback layup against the Utah Jazz at the buzzer that would have sent that game to overtime.
8. Kris Humphries. Fell back into his starting role and promptly did nothing to celebrate.
9. MarShon Brooks. Brooks has looked lost on the court recently. His patented move of the past week is to catch the ball outside of the arc, drive to the basket, leap in the air, and figure out what to do once he gets to his apex. He's creative enough that it doesn't always end terribly, but most of the time, it ends terribly. Brooks has made just two of eleven shots this week and continues to shove himself further and further into Avery Johnson's doghouse.
10. Deron Williams. Despite finally finding his shooting touch — hitting 39.1 percent of his threes over the past five games — Williams is losing touch with everything else. He threw his coach under the bus, saying he preferred his offense of yore in Salt Lake City under former Utah coach Jerry Sloan — the coach he allegedly forced into retirement. He's the de facto leader of a team that's gone 1-3 in its last four games, winning only a double-overtime contest to a limited Detroit Pistons roster. He's made little attempt to communicate defensively with his teammates and ranks as a team-worst -10 per game in the past week. If anything is clear from the debacle that was the Nets-Knicks game on Wednesday night, it's that something has to change — whether it's the system, the approach, or something else that just isn't clicking. It starts with Deron Williams.
Not ranked: TyShawn Taylor, Mirza Teletovic, Tornike Shengelia (each with two garbage-time minutes played this week), Jerry Stackhouse, Josh Childress (each with zero minutes this week)
Devin Kharpertian is the managing editor of the Brooklyn Game.