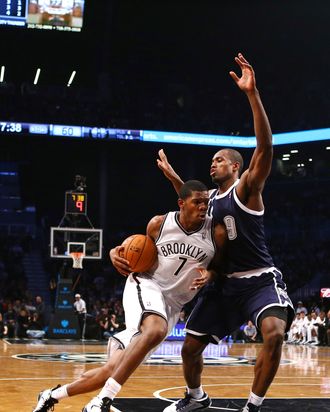 At least this guy's playing well.
We're a two-team city now, and we cannot subsist on Seth's Knicks Power Rankings alone. Thus, the Nets Power Rankings, written by the excellent Devin Kharpertian from the Brooklyn Game. Enjoy.
If the Nets keep losing, the BrooklyKnight may lead next week.
1. Brook Lopez. With a stellar zero minutes played, Lopez sweeps the competition this week after the Nets tore through their first five-game losing streak, only to end it by stumbling past the 4-18 Toronto Raptors, who only suited nine players. Lopez got a lot of flack for his mini-max deal this off-season, but if anything is clear since he went down with a mild right-foot sprain, Brooklyn needs him. Badly.
2. Joe Johnson. A dimly lit shining light: After starting the season looking more like Stephen Graham than a six-time All-Star, Johnson has finally stitched together an impressive stretch of games. Take away a clunker against Milwaukee on Sunday, and Johnson has averaged 23.7 points per game on 51 percent shooting this week. Plus, he got to the charity stripe six times against Toronto after just eight free-throw attempts in his previous six games. If this is a sign of things to come when Lopez returns, the Nets shouldn't miss a beat at full strength.
3. Reggie Evans. Reginald Evans snared the starting power forward spot over the struggling Kris Humphries and has delivered his standard brand of Reggie Evans basketball: 38 rebounds to ten field goal attempts (seven makes) in three starts. Though limited, Evans is arguably this team's best interior defender, and the numbers reflect it; this past week, the Nets have been twenty points per 100 possessions worse defensively with Evans out of the game. I imagine Evans will start at least until Lopez returns, if not just until further notice.
4. Andray Blatche. Blatche has continued to impress in Lopez's absence as starting center, averaging 17.5 points and 8.5 rebounds on 57 percent shooting in the past week. His surge would be more impressive if he could translate his offensive creativity into defensive prowess; his stodgy help defense and trouble with longer, bigger forwards (weird exception: Tyson Chandler) means that the Nets have played significantly more effective defense with Evans and Kris Humphries manning the small-ball middle this week.
5. Gerald Wallace. There's something oddly comforting about knowing what Gerald Wallace brings to the table each and every night: tireless perimeter and interior defense, at least two trips into the stands after loose balls, some drive-and-kicks, and underwhelming three-point shooting. His highest-profile moment this week came at the end of the Nets-Knicks BATTLE FOR EVERYTHING, when he clanked a tough three-pointer that would have tied the game with seconds left.
6. C.J. Watson. Watson's value is essentially wrapped up in how well he does two things: hit open threes and cause havoc defensively on the perimeter. His havoc-wreaking has taken a step back from the early season, but he's starting to hit the outside shot again. A sixteen-point, six-rebound, two-steal, zero-turnover effort against Toronto gave him a big leg up for this week.
7. MarShon Brooks. #FreeMarShon.
8. Deron Williams. Williams said earlier this week that he doesn't feel he's had a good game yet this season. By his standards, he's probably right. D-Will continued his downward spiral this week, shooting 37 percent from the field, 6–29 from three, and capping the week with a frightful 5–16 shooting night with just four assists and New Jersey–level bad body language in 38 minutes. Maybe it's his wrist or other ailments, maybe it's a mental block, maybe he's just had a terrible stroke of luck. But one thing that isn't a maybe: Deron Williams does not look like a max-contract point guard right now.
9. Keith Bogans. Slowly and quietly getting nixed from the rotation. He's a defensive specialist that has issues with quick guards and a corner three specialist shooting under 30 percent from three. Professionalism can only go so far.
10. Jerry Stackhouse. Well, it was fun while it lasted. (I still have hope.)
11. Mirza Teletovic. Did the Nets sign the right Mirza Teletovic? Is this one secretly a lifelong carpenter that had never played basketball but got a contract in the mail by accident and couldn't pass up $9.68 million over three years? And if so, is the real Mirza roaming the European countryside somewhere, terrorizing pickup games one three-pointer at a time? I need answers, because the Mirza Teletovic in those grainy YouTube videos does not look like the one in Brooklyn.
12. Kris Humphries. Rough week for Humpmaster Hlex. Humphries has taken a significant step backward this year in every way — he's losing his confidence, losing the ball as he tries to power up to the rim, losing his leaping ability, losing his starting spot, and most notably, losing a free-throw attempt as referee Courtney Kirkland (and this is no joke) swooped in to block his free throw. Nobody expects the Sky Kirkland, but hopefully Humphries is used to surprise public rejection by now.
13. Josh Childress. He played five minutes this week, which is accurate.
Devin Kharpertian is the managing editor of the Brooklyn Game.