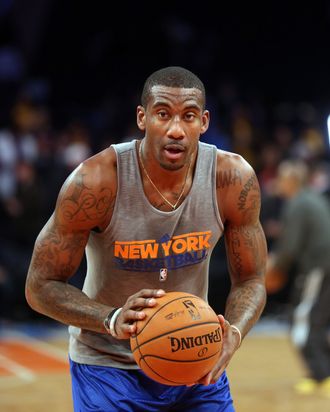 For the first time since he went down with another knee injury, Amar'e Stoudemire gave an actual date on the Gregorian calendar as a possible point of return. That date: January 1, 2013, when the Knicks play the Blazers. It'll be very, very cool to see Amar'e return whenever the time comes, though he missed a couple opportunities for more gravid, narrative-laced returns yesterday and tonight. A return on Christmas Day would have meant a first game back against his old boss (twice) and running mate, Mike D'Antoni and Steve Nash. A return tonight would have put Amar'e on the court in Phoenix for only the second time since he left that team. Unfortunately, he's not considered fully ready after a couple practices with the Erie BayHawks left him sore. The Knicks'll take care of the rest of this week's road trip, then get Amar'e on the practice court and activate him as soon as they can in 2013.
The rest of this road trip looks easy, which only serves to strike fear in the hearts of Knicks fans. New York's opponent tonight, the Suns, lost back-to-back over the weekend, but won four straight before that with some spurts of uncharacteristically terrific defense. Win or lose, the Suns have a habit of scaring teams. Recall these two teams' meeting in New York, in which Phoenix nibbled away what should have been a blowout win for the Knicks. If New York doesn't take this one seriously or plays hung-over after the big game in Los Angeles yesterday, they run the risk of letting one slip all the way away. New York has only lost consecutive games on one occasion this season, but they haven't been sharp in the second of back-to-backs.
Also of note: Raymond Felton remains questionable for tonight's game as I write this. He now has a sprained pinky to go with his matching bone bruises on each hand. He should sit. If he doesn't, it'll be very interesting to see his approach (i.e., how many dozens of shots he attempts despite pain and numbness in both hands). Please just sit, Ray.
Just two more games — both of which should be wins — until that nice little break arrives and Amar'e makes his final preparations for a return. Gotta make 'em count.