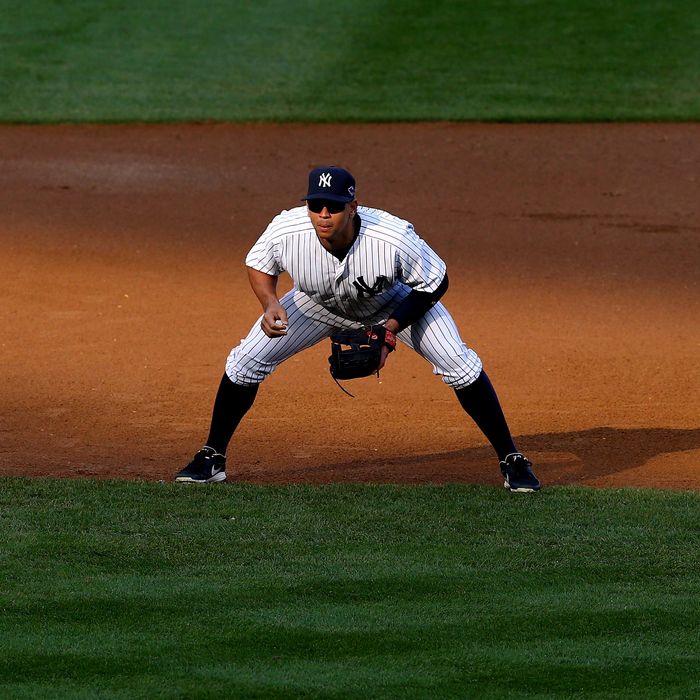 Remember the Yankees' circus of a postseason — the one in which Alex Rodriguez went from the starting third baseman to a player who is pinch-hit for in big situations to a guy who's benched altogether against righties? There was apparently more going on last October than we knew: Alex Rodriguez has a torn labrum in his left hip and was likely playing with the injury for at least part of the playoffs. He'll need surgery and will likely be out until June. That's bad news for the 2013 Yankees — but let's talk for a moment about the 2012 Yanks.
We're still trying to piece together a timeline of events here. Jon Paul Moisi and Ken Rosenthal report that Rodriguez suffered an injury to his left hip before the 2012 playoffs began and was on pain medication throughout the Yankees' postseason run. From their Fox Sports report: "The pain in his hip was so severe after one Division Series game that he had to be taken to an emergency room overnight."
Tyler Kepner of the Times, however, reports that A-Rod complained about pain in his right hip — the one he had surgery on prior to the 2009 season. Kepner writes that an MRI on that hip, taking during the playoffs, came back clean, and that the tear in A-Rod's other hip — the one that requires surgery this time — was found during his off-season physical. Joel Sherman of the Post, who broke the story, gives similar details: A-Rod experienced "discomfort in the hip area" during the postseason, but an MRI was taken on the right hip, and it came back clean. Sherman writes that A-Rod was likely playing with the injury for at least a portion of the playoffs, which suggests the injury might not have been an issue (or as big an issue) when the playoffs began.
But even without an accurate diagnosis, it sounds like A-Rod was playing hurt, and it doesn't appear he hid that information from the team, even though both A-Rod and Girardi repeatedly said that Rodriguez was fine. And so this adds another wrinkle to Joe Girardi's decision to pinch-hit for A-Rod and ultimately bench him altogether. If we've got the story straight, Girardi would have known that A-Rod was in pain, which raises some new questions. Should A-Rod have been playing at all, if the injury was causing him so much discomfort? Was Girardi actually deciding whether even an injured A-Rod might have been the better bet in certain situations, and factoring that in alongside, say, lefty-righty considerations? (If so, that might help explain why Brian Cashman insisted at the time that they still see A-Rod as their third baseman next year, despite how he was used in the playoffs. At least in that scenario, Girardi and Cashman are making a decision that's based on more than a small postseason sample size and doesn't involve buying into the "A-Rod isn't clutch" talk.) To put all that another way: Did the relative strengths and weaknesses of A-Rod's potential replacements play a factor in how much Girardi tried to squeeze out of him in October? And as Big League Stew suggests, does A-Rod deserve credit for trying to play through the pain?
Ultimately, those details only matter at this point for those of us still interested in postmortems on the 2012 season. The injury would seem to at least partially explain A-Rod's terrible performance during the playoffs, and like we said, it was something else for Girardi to consider. But A-Rod's been hit hard by injuries for years now, and he still has five more seasons left on his megacontract. Looking forward, an injury like this is what the Yankees feared: It's another reminder that the days of Dominant A-Rod are over, and even if it's possible A-Rod could be relatively effective when he's healthy and able to play, that's probably going to happen less often as he approaches his 40th birthday, let alone his 41st and 42nd. The Yankees were already in the market for a right fielder and a catcher (though the latter could be filled by less-than-ideal in-house candidates). Now they have to consider their options for improving their depth at third base, at a time when their starting shortstop is still rehabbing a major ankle injury. That A-Rod contract looks worse and worse every day.