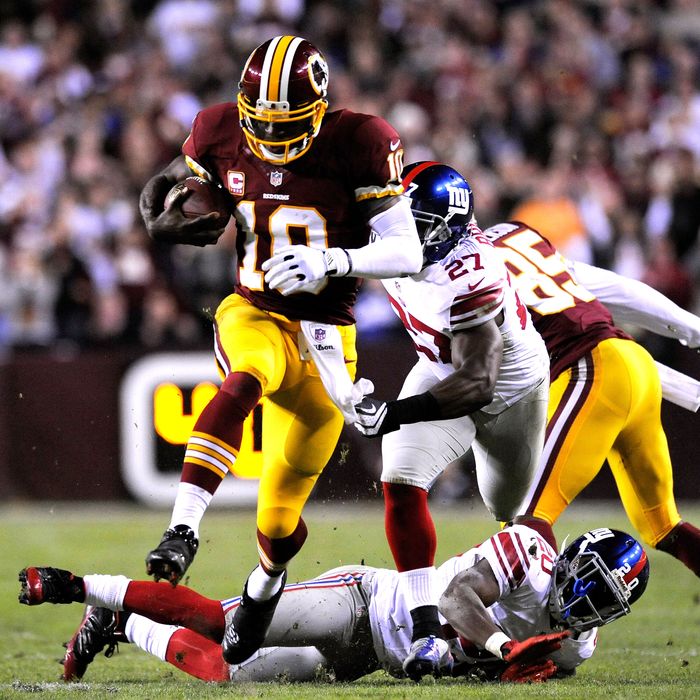 From a Giants perspective, the worst part about last night's 17–16 Redskins win isn't how it shrunk New York's lead; the worst part was that it's another piece of evidence that with Robert Griffin III running the offense, the Redskins — the team owned by this guy — are relevant again, and are poised to be a factor in the division for the foreseeable future. Dammit, just as the Eagles were hitting rock bottom, too.
The Giants have seen first-hand the kinds of things RG3 is capable of — in fact, they're the first NFL team to see him in action twice. Of course, the Giants have a potent offense as well, and this started out as a fascinating matchup of two dangerous but different quarterbacks. On the one side, you had Eli Manning, the battle-tested quarterback methodically leading his team downfield, generally capable of dropping a deep pass into the arms of a receiver. On the other, you had Griffin, who's been one of the most accurate passers in the league during his rookie season but is also a threat to run. It was the kind of game fans circle on their calendar, regardless of whether they have a rooting interest.
Of course, the quarterback isn't the only player on the field, and the Giants as a whole played too sloppy a game last night. They took nine penalties on the night: six by the offense and three by the special teams. (They entered the night averaging 4.4 offensive penalties per game — second fewest in the league.) The penalty that stands out this morning: With the Giants down a point in the fourth quarter and Eli Manning trying to lead his team to another late comeback, Manning hit Martellus Bennett with an eleven-yard pass on third-and-ten, but it was negated by a Will Beatty holding penalty. It was that kind of night for the Giants.
So through thirteen weeks, the Giants sit atop the NFC East with a 7-5 record. The Redskins and Cowboys are both one game back at 6-6. As far as tiebreakers involving the Giants go, they split the season series with both Washington and Dallas, but the second tiebreaker is divisional record, and Tom Coughlin's team is just 2-3 within the NFC East, with one game against Philly remaining in Week 17. Washington, meanwhile, is 3-1 in divisional games, and Dallas is 3-2. The next tiebreaker is record in common games, and …a ctually, we might be getting a bit ahead of ourselves here. The Giants, after all, still control their destiny. They have a couple of tough games coming up: at the 11-1 Falcons and the 9-3 Ravens in Weeks 15 and 16, respectively. But next up is a home game against New Orleans on Sunday that, after last night, is even more important.