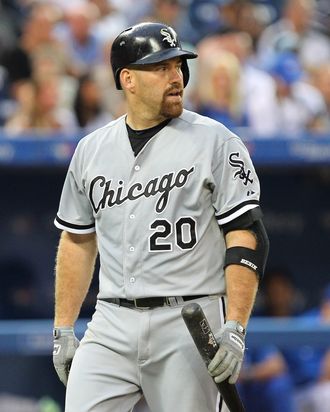 This week was the one in which the long-despised Kevin Youkilis joined the Yankees. It took a little effort to come to terms with that. We wondered how John Sterling might treat this new addition and also marveled at Alex Rodriguez — the man for whom Youkilis is presumably filling in at third base — and his ability to evade incisive questions with mythological feints. The Yankees closed the week by reportedly nearing an agreement with Ichiro Suzuki, who will sign on for another two years.
Meanwhile, the friction between R.A. Dickey and the Mets only increased, such that speculation right now is that he might be traded very soon.
In basketball, the Knicks stayed streaking with wins over the Nuggets and Mike D'Antoni's frighteningly bad Lakers and, of course, evened the score against the Nets. Carmelo Anthony got banged up but should be okay. After a rough homestand, the Nets finally broke their slide by beating the sorry Raptors. We ranked all the players on both teams. Elsewhere, Jeremy Lin gave us a tiny reminder of the magic of Linsanity.
In football, the Jets remained in the playoff picture, amazingly, while the Giants survived a big week from their rivals to stay atop their division. The Jets play the Titans next Monday while the Giants face the Falcons this weekend.
Other things: Our hero had a very, very bad day. We pondered the possibility of a basketball mega-conference. The Ebbets Field flagpole took up residence at Barclays Center. Joe interviewed the author of a book on the 1994 Devils-Rangers series. And, it still being an NHL lockout, we watched all sorts of random hockey videos.
Have a safe, pleasant weekend, friends. See you on Monday.