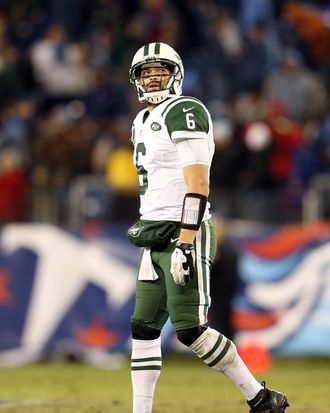 The Jets were still mathematically alive when their Monday night game against Tennessee began, but said game ended in the most Jets way imaginable, thus dashing their postseason hopes. Since then, the team announced that Greg McElroy will start on Sunday, a report said that they'll try to trade Mark Sanchez, and another report said they'll either trade or cut Tim Tebow. But what happened this week that didn't involve the realization that the Jets' quarterback situation is going to be even worse next year?
The Giants got shut out by the Falcons, and we looked at some Week 16 scenarios.
The R.A. Dickey trade brought out the best and the worst in the Mets.
The Knicks lost to the Rockets in Jeremy Lin's return to the Garden, but had no problem beating the Nets. Those Nets, by the way, are having a lousy December.
Carmelo Anthony topped our Knicks Power Rankings.
Joe Johnson topped our Nets Power Rankings.
And we watched some holiday-themed hockey videos.
That's it for us. Have a great weekend.