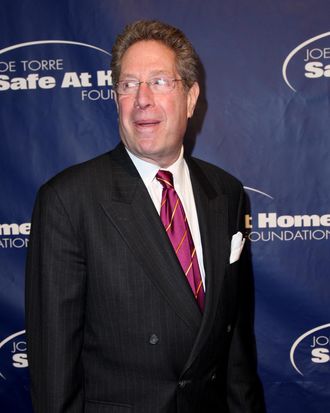 Kevin Youkilis is a Yankee now. Kevin Youkilis isn't much of a slugger these days, but he'll probably hit a home run at some point, and when that time comes, we're pretty certain Yankees radio announcer John Sterling's going to have a home-run call ready. What might it be? You can bone up on the science of Sterling home-run calls here and find a discussion on this subject already taking place here. Here are a few of our ideas. Let us know your guesses in the comments.
The first question is if there are any available rhymes, puns, or other wordplay, which … yup, plenty. A few possibilities:
"Oh, thank Kevin!"
"Manna from Kevin!"
"Youk can kiss that one good-bye!"
"Youk can call him Kevin!"
"Kevin, you killed it!"
"A Youk nuke!" (Though, given that he already uses the "A-bomb for A-Rod" call, that might be excessive nuclear-warfare imagery.)
"YOUUUUK crank that Soulja Boy!" (Wouldn't bet on this one.)
There's also the fact that Kevin is known as bearded and was once dubbed "Euclis, the Greek God of Walks", so perhaps "By the beard of Zeus!" or "By the beard of Youk!"? He's not actually Greek, though. He's Jewish. So maybe, uh … "Kevin … prefers his bread unLEAVENed for like a week or so in April!" Nah. What about arcane Broadway references? Anything there? "Getting to know Youk"? "There were bells on a hill, but I never heard them ringing. No, I never heard them at all, till there was Youk"?
This is tough. We need more ideas.