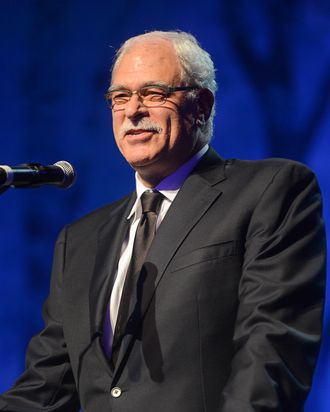 If you need any further proof that the Brooklyn Nets, despite all their best efforts to "take over the city" and what-not, are still pretty far from breaking through the decades of history their sports-marketing-dollar rivals have on them, take a look at the back pages of the Daily News and the Post this morning. The Nets, just a month after launching one of the largest marketing campaigns in recent memory and claiming to everyone within earshot that they were a legitimate championship contender, fired coach Avery Johnson. If there's anything this city's tabloids love, it's a coaching firing, definitive proof that something is going wrong. But in the Post and Daily News … the Jets, reigning champs of something going wrong, dominate both back pages. Yeah, the Nets still have a while to go.
So, now that Johnson is gone, who's going to take his place? Who's going to be the one to bring the Nets the championships and publicity they so desperately crave? P.J. Carlesimo is the interim guy — and all Sprewell jokes aside, Carlesimo is an awesome feller, if obviously not the long-term solution — but who will get the job? Here are some candidates.
Phil Jackson. Well, he's obviously the one the Nets want. Also: We would like a pony. That's to say that you shouldn't hold your breath. The Nets' roster isn't championship-ready enough for Jackson (as much as they might dream it to be); it's difficult to see the Nets catering to all of Jackson's weird whims (reduced road trips, so on); Jackson has no other ties to the organization; and, oh yeah, his agent definitively says he's not interested. Other than all that, though …
Stan Van Gundy. A more logical fit than Jackson, he's a terrific coach looking for a new challenge and amenable to things like making a lot of money. He also: might be a little too opinionated for the Nets; can never be in the same room as Dwight Howard (who the Nets still dream of); isn't interested either.
Jerry Sloan. Deron Williams was just pining for his offense! Though, uh: Williams is always blamed for getting him fired, and why the heck Sloan would get off his tractor in rural Illinois to head to Brooklyn is beyond us. Probably even less likely than either of the two above, and that's saying something.
John Calipari. You can see him being into it, actually. He already has a relationship with Nets executives; he'd relish the opportunity to fix the one hole on his résumé; and it does sort of seem like a fit. But he'd want total control, which means Billy King would have to go.
Other, smaller names. Possibilities: Brian Shaw, Nate McMillan, David Blatt (coach of the Russian team at the Olympics).
No matter what, no matter how much Deron Williams denies being a coach killer, the new coach will have to deal with Deron first. We get a feeling this coaching hire may take longer than anyone suspects. Maybe when it happens, they'll actually sneak on the back page.