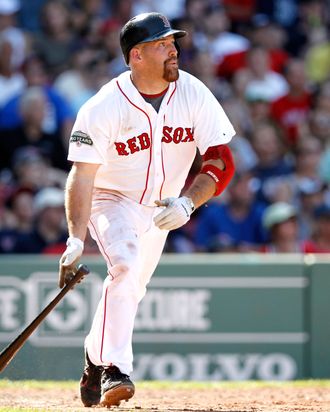 Kevin Youkilis was once a very unpopular man in the Bronx. A key member of Boston's 2007 World Series team (and a lesser member of the 2004 title squad), the hard-nosed Youkilis was an easy target for Yankee fans. He was routinely booed inside Yankee Stadium, and if he ever stopped by Bald Vinny's T-shirt stand on the other side of River Avenue, he'd have seen fans buying "F Youk!" apparel. So what to make of the fact that Kevin Youkilis is bringing his funny batting stance to the Yankees' lineup?
Youkilis is hardly the first high-profile member of the Red Sox to wind up on the Yankees in recent decades. Wade Boggs did it. So did Roger Clemens, via a trade after a stop in Toronto. He's not even the first player from the Boston title teams to switch sides: Johnny Damon, one of the main 2004 Idiots, signed a big free-agent contract with New York prior to the 2006 season. Hell, Derek Lowe — the man who started Game 7 of the 2004 ALCS — pitched for the Yankees just last season. Jerry Seinfeld once joked that sports fans are really just rooting for laundry, and he's basically right, even if fans absolutely do grow attached to certain players. So what, if anything, is different with Youkilis?
Well, Youkilis is the type of player that Yankees fans didn't just root against because he was talented and wearing a rival's uniform. He famously had some beef with Joba Chamberlain, and as the Times put it today, he was a "symbol of [the] rivalry" whose "hard-nosed style personified the enmity between the teams" and who "many Yankees fans saw … as the embodiment of the Yankees' most bitter rival." In other words: He was a guy who made fans want to wear a shirt that said "F Youk!" in public.
But having said all that, let's be clear: It's okay to cheer for the guy next year.
One could get into the baseball reasons that Youkilis should or shouldn't be here, but that's not really what this is about. It's about how strange it will be to see Former Red Sox Star Kevin Youkilis wearing pinstripes. It's about how weird it will be to hear Yankees fans chanting "Youk!" when the third baseman gets a big hit. It's about how it can be hard to go from disliking a player so much to cheering for him to succeed. The whole basis of Jerry Seinfeld's "rooting for laundry" line is that fans ultimately want their teams to win, no matter who is playing for them. Are there exceptions? Sometimes, but this isn't one of them. At the end of the day, the reasons it'll be strange to root for Youkilis all stem from him playing in Boston for years, and that alone isn't reason not to embrace him as much as one can embrace an infielder on the downside of his career.
Now that he's agreed to play here, Yankees fans with the team's best interest in mind might as well root for him and, more specifically, root for him to resurrect his career. (His OPS has dropped from .975 to .833 to .745 over the last three years, and he didn't appear in more than 122 games in any of them.) One word of advice to Youk: Get off to a good start. Some Yankees fans may not want to cheer for him, but it'd be even worse if he didn't give them anything to cheer about.
And as for whether it'll be strange for Youkilis to make the switch, let's give the last word to Johnny Damon, who knows a thing or two about this sort of thing: "He will be fine,'' Damon said, via the Post. "Especially since Boston traded him. Now he realizes it's a business and you have to take care of yourself.''