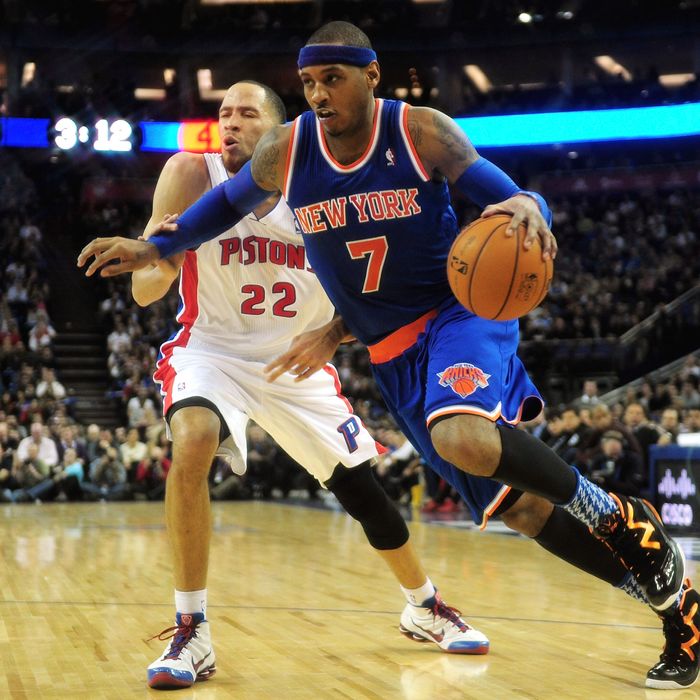 Carmelo Anthony has played a remarkable enough two and a half months that serious mentions of his MVP candidacy get dismissed not with raucous laughter but with "LeBron and Durant are still better." That's a compliment. So it came as no surprise that when TNT revealed the final returns on the voting for NBA All-Star starters, Anthony finished behind only Durant and James (and Kobe Bryant, who led the voting because that's just what he does) with almost 1.5 million votes. He will start for the Eastern Conference alongside a couple of friends and a couple of … not quite friends.
Yeah, Melo and LeBron and Dwyane Wade are all rivals, but also pretty great friends off the court (and, in LeBron's case, Olympic teammates this past summer). So, that's nice. Rajon Rondo will be a fun teammate, but his only apparent friends are his Celtics teammates and a few cacti. And Kevin Garnet … well, this could get awkward. Those two have been ahead in All-Star balloting for a while, so it was evident as soon as Garnett verbally abused Melo and Melo stalked him around the MSG perimeter a week and a half ago that the two were sowing the seeds of an uncomfortable All-Star pairing. Anthony claims the two smoothed things over, and this little beef certainly pales in comparison to some of the tense Michael Jordan–Isiah Thomas All-Star teams of the past, but folks will still be talking and watching very closely. And by the way, if the Knicks can sneak into first place in the East by January 31 — they're just one game back of the Heat right now — Mike Woodson will be chosen as the head coach of the East, in which case I'd wish for an All-Star practice of Celtics running suicides while everyone watches, then 48 minutes of playing time for Garnett and Rondo. Bitter? No.
But hey, what about the rest of the Knicks? If they're second in the East, they must have some more worthy players. The rest of the selections get voted in by the coaches, not us dumb peasants, and they're likely to pick at least one Knick. Tyson Chandler has some tough frontcourt competition in Al Horford, Joakim Noah, and Brook Lopez (to name a few), but he seems likely to get a nod for his fine work. J.R. Smith, too, has a small chance of getting voted into a relatively weak Eastern backcourt. He's had a great season to date and only one of the Eastern Conference coaches (Byron Scott of the Cavaliers, who coached Smith in New Orleans) has any reason to hold a grudge.
So, the Knicks will be represented at All-Star weekend. From the look of things, they could send as many as three guys to the game itself. Earlier in the weekend, we'll likely see Steve Novak in the three-point shoot-out, and even though he hasn't done much playing or dunking this season, James White deserves an invitation to the Dunk Contest as well. At the very least, we'll get to watch Melo, and that should be fun. Maybe a little tense, too.