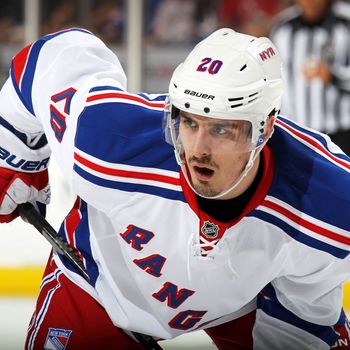 One of the most exciting things about being a sports fan is watching a promising young player meet expectations. Fans are always hearing about the Next Big Thing, and if the player lives up to the hype, they can dream about him developing into a star. As we've written before, there's something especially satisfying about watching a homegrown player succeed. We bring this up in the days leading up to the NHL season because when the Rangers last took the ice, during the playoffs in May, Chris Kreider was exactly that type of promising young player.
His much heralded arrival in the NHL was delayed by the NCAA Tournament run of his Boston College Eagles, and by the time he officially turned pro, the regular season had already ended, and there didn't appear to be a spot in the lineup for him. A spot would open up just a couple of games in, however, and he suited up for the first time in Game 3 of the conference quarterfinals against Ottawa. He scored his first goal in a do-or-die Game 6 in that first round, and had won enough trust from John Tortorella that he got minutes in crunch time in Game 7.
But perhaps his true coming-out party was Game 1 against Washington in the next round, when he scored a goal, added an assist, and showed off the speed that makes him such a dangerous player. It was his sixth NHL game, and he'd already become a fan favorite. Kreider wasn't perfect in the playoffs last season, but he'd finish the postseason with five goals (tied for third on the team) and seven points (tied for eighth). Both of those were records for a player who'd never appeared in a regular season game.
Since the Rangers' last game, nothing has happened, and a lot has happened. Because of the lockout, the Rangers only began formal practices on Sunday, and we're still four days away from the return of actual NHL hockey. But unlike his more experienced teammates, Kreider has been playing Stateside all along: He'd been skating with the AHL Connecticut Whale — a team long praised for preparing Rangers prospects to handle the system the team uses at the NHL level. If a proper Tortorella training camp and a few months of NHL practices couldn't happen because of the labor dispute, it was the next best thing.
And so this is where things get a bit discouraging: Despite impressing at times during the pressure-filled Stanley Cup Playoffs last year — against some of the best competition in the world — Kreider had hardly been tearing things up in the AHL. He tallied just five goals and seven assists in 33 games with the Whale, while accumulating 55 penalty minutes. Just before Christmas, Whale GM Jim Shoenfeld gave an update on Kreider's progress, explaining that he was still learning and (non-specific hockey cliché alert!) "going through the process." He also cautioned that fans don't need to worry about his AHL numbers.
In the fall, ESPN's Craig Custance looked at the best-case and worst-case scenarios for Kreider. The best case, he writes, is for Kreider to develop into a player who consistently scores 30 to 35 goals (in an normal 82-game season, obviously). Meanwhile, Custance quotes an NHL scout who says the worst-case scenario is to become a top-nine forward, or, to put it another way, a third-liner.
John Tortorella's lines, of course, tend to change frequently, but four months ago, we'd have thought a spot on the Rangers' second line with fellow Americans Ryan Callahan and Derek Stepan was Kreider's to lose. Indeed, in thumbing through the Hockey News's annual yearbook — one that was published before the lockout — Kreider is listed as second on the left-wing depth chart, which would put him on a line with Callahan and Stepan. Those three saw ice time together in the playoffs, so the combination made sense, and it also seems like a reasonable place on the team for Kreider. In its rankings of the organization's top ten prospects last September, Hockey Prospectus projected Kreider (No. 1 on the list) as an "okay first line winger," which just seems like a less enthusiastic way of saying he could be a strong second-line winger.
For what it's worth, Kreider seems to be approaching this year's abbreviated training camp with the right mind-set. Both he and his coach agree that he'll have to earn a spot on the roster out of training camp, and Tortorella said Monday that he'd practiced "very well" in the early stages of camp this week. (A look at the Rangers' roster, of course, suggests it's pretty unlikely he wouldn't be in the opening-night lineup. They'd have to have somewhat major concerns about his game to send him back to the AHL.) But if he does get a roster spot, he'll most certainly have to earn ice time: As of now, it doesn't look like he'll start the season among the top six forwards. Though maybe that's for the best: He is, after all, still just 21 years old, so he has plenty of time to develop into the player they believe he can be. John Tortorella is notorious for mixing up his combinations regularly and will reward strong play while punishing poor play. In other words, Kreider still has plenty to prove, and he knows it. Via the Post:
"I have to show them that I belong," Kreider said. "And I know the only way to get ice time here is to be responsible on the defensive side of the puck and not cheat the game.
We got a taste of the Chris Kreider Era last spring, but barring something unforeseen, it begins again on Saturday. Pretty exciting, isn't it?