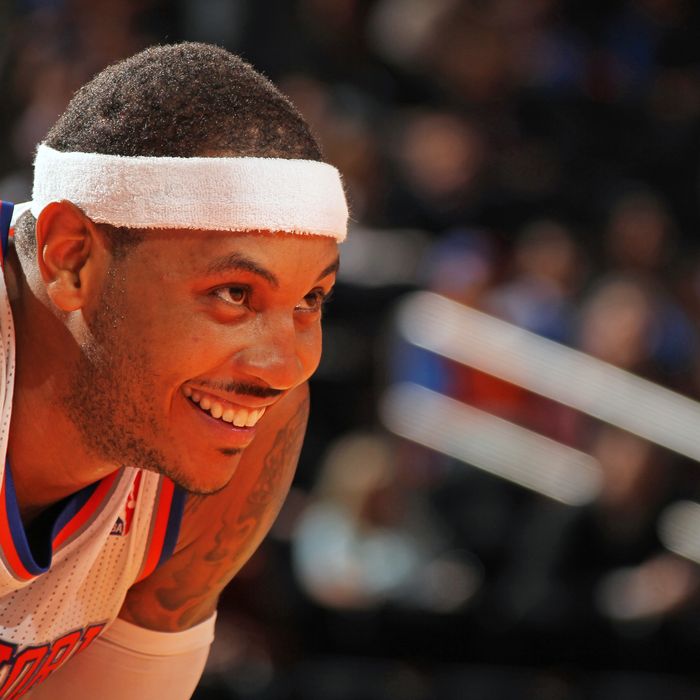 So, here's something: During Friday night's Knicks loss to the Bulls, Knicks owner and Golden Globes attendee Jim Dolan reportedly had MSG Network employees record every word Carmelo Anthony said (as well as every word said to him). From Dave D'Alessandro's column in the Star-Ledger:
Two audio technicians were stationed at two corners of the court — one a few feet just behind the Knicks bench, the other diagonally opposite — and they were holding those umbrella-shaped contraptions known as parabola microphones, which fed the audio into a DAT recorder on the truck on the loading dock.

These guys had one directive from Dolan: Record every syllable Carmelo Anthony utters and absorbs while he's on the court and on the bench, the Madison Square Garden CEO ordered them, and send the tape directly to me.
It's pretty unusual behavior, to be sure, but D'Alessandro offers up some suggestions of why Dolan would do such a thing. For instance, perhaps he was trying to prove that Anthony is a target of opposing trash-talkers in the wake of Whatever-We're-Calling-What-Happened-With-KG-Last-Week-Gate. It's as good a guess as any, we suppose.
In any case, we eagerly await the NBA-star banter that will surely be sampled on the next JD and the Straight Shot album. We'd absolutely pay 99 cents for a "Fix the Knicks" remix featuring in-game Carmelo Anthony audio, even if we imagine the only thing he told opponents Friday night was how hungry he was.