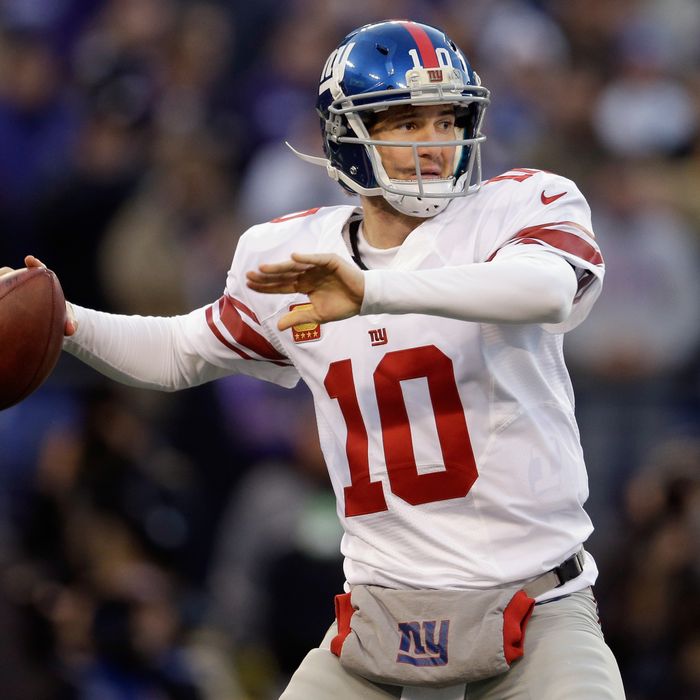 In 2011, Eli Manning was one of the best quarterbacks in the NFL, throwing for 4,933 yards, a career high and fourth best in the league. As a result, he was selected to his second Pro Bowl but did not play because his team was preparing for the following week's Super Bowl.
In 2012, Eli Manning wasn't nearly as good: He threw for 3,948 yards (good for twelfth in the league) and had a rating of 87.2 (fourteenth in the league). He had some strong games, but he also turned in some stinkers late in the season when his team desperately needed wins. He was not originally chosen to play in the Pro Bowl because he did not deserve to play in the Pro Bowl. But with a quarterback spot opening up for the NFC, he's going to play in the Pro Bowl this year anyway.
Manning will replace Aaron Rodgers, who said yesterday he's pulling out because of injuries to "multiple lower extremities." Manning is the second alternate to be named to the NFC team; Drew Brees had already taken Robert Griffin III's spot.
So why, again, do they actually play the Pro Bowl? Players routinely find reasons not to attend (some more legitimate than others), and now that the game takes place in the off week before the Super Bowl, the best players on the very best teams aren't even allowed to play. Football doesn't lend itself very well to meaningless exhibitions — particularly when the rosters get watered down by the time the game actually takes place.
The quality of play had gotten so poor, in fact, that the league and players union had reportedly discussed cancelling the game and simply picking a team on paper through voting. But the league and union announced in May that it would go on. (The league had also considered once again playing the game at the site of the Super Bowl, as it did in 2010, but the players wanted it to remain in Hawaii.)
Worth noting: The Pro Bowl, according to Fox Sports, isn't a moneymaker, but plenty of people still watch it on TV, regardless of all the issues mentioned above. Last year's game drew 12.5 million viewers — the most since 2001 — and was the highest-rated sporting event of the weekend.