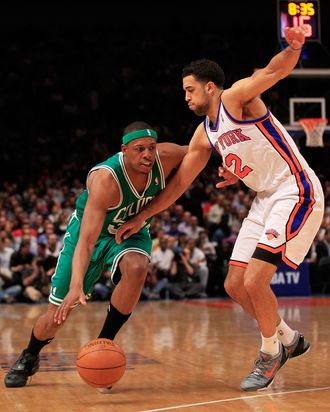 Paul Pierce has killed the Knicks over the years.
I, as a Knicks fan, am instinctively hateful and fearful of the Celtics. The Knicks-Nets rivalry has been hyped up relentlessly this season — and it's already played out with somewhat satisfying contention over three games — but my sense is that Knicks fans still harbor the most in-division malice for their neighbors in Boston. I know I do. Over the past few years, Knicks-Celtics has included all kinds of petty hostility, numerous Boston game-winners (plus Amar'e Stoudemire's waved-off three in 2010), and one miserable playoff series in 2011 — a 4–0 sweep in the history books that belies some narrow, heartbreaking finishes. Even as they've grown into a winning team the last two years, New York's always been looking up at Boston.
This season, the Knicks have made it their explicit primary goal to win the Atlantic Division, and they're right on track. The Celtics were widely expected to take the Atlantic yet again, but here we are in early 2013 with the Knicks comfortably in first place and Boston stuck in third at 16–17. As the two teams converge at an unusually late juncture for their first match-up, New York seems like a contending team with a strong offensive identity, and Boston's looked like a decrepit husk of their typically lockdown selves. It feels pretty strange for the Celtics to be entering Madison Square Garden gazing upward from well below the Knicks. Strange, but kinda nice.
That said, the Knicks might not be catching the Celtics at the best time. Boston just got wing stopper Avery Bradley back in the lineup, and their defense has looked much more like itself over the last few games, including a massive third-quarter comeback against the Hawks on Saturday. The Celtics feel like they have a little momentum after two straight wins, and they're certainly not talking like a sub-.500 team (check the Jason Terry quote in there). Bad as Boston has been, this feels like it'll be a ball game. I'm nervous. At least we know that, no matter what happens, the night will end with New York still atop the division and Boston still down below the Nets.