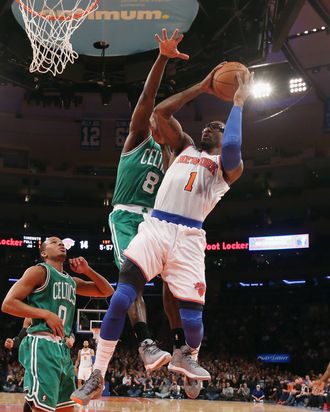 A week of change included the return of Amar'e Stoudemire.
Each week throughout the year, we'll track the highs, lows, ins, and outs of Mike Woodson's ever-evolving rotation. Come with us for this edition of the Knicks Power Rankings.
1. Carmelo Anthony. (Last week: 1) It was a week of flux — changes to the starting lineup, reintroduction of Amar'e Stoudemire into the rotation — that ended on a really sour note for Melo and the Knicks. Anthony's 6–26 outing against Boston began as a simple run of unlucky bounces against the tough Celtic defense, then devolved into a heedless bout of bricking impulsive jumpers and fuming at Kevin Garnett. He stopped chucking jumpers when the game ended, but evidently kept fuming long after the game. Hopefully no suspension comes of the incident, because Melo had played especially terrific ball before Monday night's meltdown. He tied his season-high with 45 points in the loss to the Blazers, made some savvy pick-and-roll decisions in New York's triumph over the Spurs, and eviscerated poor Josh McRoberts during the fourth quarter in Orlando. If anything, Monday's wild-eyed breakdown was especially disappointing because Melo had been so thoroughly dominant in the preceding games.
2. J.R. Smith. (Last week: 2) J.R. finally cooled off a bit in the Orlando and Boston games, but he continues to be the only Knick other than Anthony able to create offense for himself. He helped Melo keep the Knicks in that Portland game with a flurry of step-back shots and fancy finishes off the dribble and ripped down eleven rebounds as well. Pretty solid few games, though even if J.R. had spent most of the week missing shots and tripping puppies, he'd be up near the top of these rankings. When you do this, you're pretty much given a free pass for the rest of the week.
3. Tyson Chandler. (Last week: 3) Chandler's not getting many easy looks without Raymond Felton around to supply him. He's doing his best, though, to compensate with even greater attention to the offensive glass in the form of so many carefully aimed tip-outs. Meanwhile, teams with penetrating guards (Damian Lillard and the Blazers, for instance) continue to put Chandler in pickles: New York's backcourt pretty much invites speedy opponents to drive, which leaves Chandler stuck between helping contain the penetration and staying home to cover his man. His decision-making in those scenarios has been intermittently problematic this season, but the Knicks sure aren't making it easy on him.
4. Jason Kidd. (Last week: 4) Kidd's doing a perfectly adequate job as New York's starting point guard, but given his limitations in mobility, I'm really looking forward to Raymond Felton returning (hopefully with his hands and head on a little straighter) so Kidd can return to the off-guard spot. When he's playing the two, his brilliant court vision and shooting are a luxury, not a necessity, and New York's offense isn't quite so stagnant.
5. Marcus Camby. (Last week: 6) Camby's a starter now, and he's had some really excellent moments in that role. The efficient rebounding and decent interior defense are as expected. What really stands out to those who haven't watched Camby in a while is the man's ability to throw bull's-eye passes from the top of the key. Camby was reluctant to shoot when teams sagged off him out there, but he made up for it by surprising guys like Chandler and Melo with perfect alley-oop feeds where only they could reach them. I'm still looking forward to Melo returning to more regular minutes at the four, but Camby's time filling in hasn't been so bad.
6. Amar'e Stoudemire. (Last week: Injured) He's back! Amar'e, as expected, came out looking pretty rusty in his first game, but made bits of progress with each passing performance. Stoudemire's offense started with every shot falling short and every dribble move running headlong into disaster. Over the last few, he's demonstrated some touch around the rim and actually broken free to cram a couple very heartening dunks on folks' heads. And while nobody expects him to suddenly blossom into a brilliant defender, the unspeakably horrid defense we saw in his first game back is, by now, a healthy mash of genuinely helpful rotations with only the occasional major error mixed in. We'll take it. Amar'e's not quite himself, but he's headed in the right direction. The main thing now is for Mike Woodson to figure out when and with whom he'd like to use Stoudemire. Amar'e played big fourth-quarter minutes with the first unit against Boston and it didn't go so well. This year's team just doesn't have much practice spacing the floor with a ball-hungry, interior-dwelling large gentleman overlapping ranges with Chandler. A tight fourth quarter against the Celtics doesn't seem like the best time to experiment with Stoudemire in the first unit, but such is life.
7. Steve Novak. (Last week: 8) Novak's defense — both one-on-one and help — is so horrid that he must make threes to warrant time on the court. Through the last three games this week, he made a good portion of his threes (10–16), though open looks were few and far between.
8. Ronnie Brewer. (Last week: 12) Brewer's minutes have increased and he's actually hitting the odd (and odd-looking) jumper and making the occasional defensive stop these days.
9. Pablo Prigioni. (Last week: 7) Pablo had a truly terrific night passing out of the pick-and-roll against the Spurs, but his goal to become more aggressive has him shooting at the wrong times and forcing quite a few passes. It's also a little alarming that such an experienced point guard has so much trouble dealing with ball pressure, though I guess the same could be said of Kidd. It's probably tough when you're no longer able to just blow by guys who are all up in your personal space.
10. Chris Copeland. (Last week: 5) With Camby and Amar'e back, Cope's pretty much fallen out of the rotation, save for a few minutes here and there at the end of quarters.
11. Kurt Thomas. (Last week: 10) Likewise, except Kurt's not playing at all.
12. James White. (Last week: 11) This week in Fun With James White's Very Generic Name, we celebrate James's golden years on the southern pro-wrestling circuit.
Injured: Iman Shumpert (cleared for contact!), Raymond Felton, Rasheed Wallace.