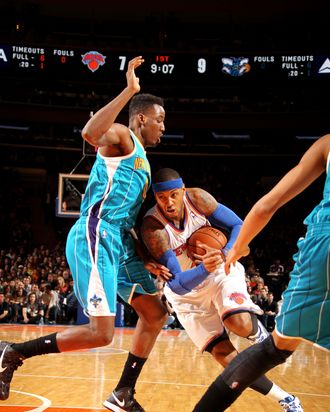 Carmelo Anthony, post-suspension, pre-break-fast.
Each week throughout the year, we'll track the highs, lows, ins, and outs of Mike Woodson's ever-evolving rotation. Come with us for this edition of the Knicks Power Rankings.
1. Carmelo Anthony. (Last week: 1) Melo retains his lead in the Power Rankings by default only — nobody really challenged him — but really blew the competition out of the water in the weirdness department. If these were the Knicks Weird Rankings, this would be Melo's week (most other weeks would be Renaldo Balkman's, even though he's not on the team anymore). While the Knicks crapped their way through three final games before their much-needed break/trip to London — a season checkpoint of sorts — the fallout from Anthony's tiff with Kevin Garnett continued. On Tuesday, Melo served a suspension during New York's wilted performance in Indiana. On Friday, James Dolan had minions listen in on Melo's on-court conversations, ya know, for his protection. On Sunday, Melo overcame an awful first quarter to lead the Knicks over the Hornets, then casually dropped that he'd been restricting his diet for two weeks … which might explain some of the recent struggles and hostility, right? I know I couldn't hit jumpers or withstand verbal abuse from Kevin Garnett on an empty stomach. Anyway, it's a pretty swell time to be taking a vacation.
2. Tyson Chandler. (Last week: 3) Without Raymond Felton around to draw help and feed him, the only passes headed Chandler's way found him in traffic or too far from the rim. Chandler's best assistant was the missed shot, as he got pretty much all his decent inside looks off offensive rebounds. And again, Chandler repeatedly found himself on a defensive island, caught between covering for the Knicks' constant, careless switching and sticking with his own man. Things looked a lot better on Sunday, when New York's defense tightened a bit and Chandler could concentrate on stopping Robin Lopez (and hopefully not getting lice in the process).
3. J.R. Smith. (Last week: 2) I'm gonna go ahead and blame a lousy shooting week on the Knicks' insistence that J.R. wear a headband (the team's patented head wound-dressing technique) pulled low over his brow while some stitches above his eye settled. Case in point: J.R. shot 3-7 (43 percent) in a headband-less second half against the Hornets, 14-50 (28 percent) in two and a half headband-ed games before that. Once again, a single highlight dunk buoys Smith's ranking for the week.
4. Pablo Prigioni. (Last week: 9) Prigioni may have played his way into the (Felton-less) starting lineup with some sharp performances this past week. Either way, he's been playing starter's minutes and finding a pretty nice pick-and-roll groove with Amar'e Stoudemire — or, more accurate, with the semicircle of shooters waiting patiently for the defense to collapse on the rolling Amar'e and open up outside looks.
5. Jason Kidd. (Last week: 4) Kidd's weirdly lackadaisical play as starting point guard has solidified his preferred role off the ball. At this point in his career, Kidd's a better extra passer than pick-and-roll runner, a better spot shooter than creator off the dribble, and a better help defender than matchup for the opposition's ball-handler. Kidd had a pretty down week until Mike Woodson upped Prigioni's minutes and played the two together, rendering Kidd's passing bonus rather than the crux of the offense.
6. Amar'e Stoudemire. (Last week: 6) Amar'e's coming along, bit by bit. After Woodson stretched him a bit too far the previous week, Stoudemire stepped into a twenty-ish minutes per bench role and got a little more comfortable. It was particularly encouraging to see him rotate and switch appropriately on defense. As he develops more chemistry with the team's guards (and gets Felton, with whom he already has chemistry, back), Stoudemire should see more quality pick-and-roll touches. He's mostly had to conjure offense for himself so far, and that doesn't always go so well.
7. Chris Copeland. (Last week: 10) Marcus Camby's injury eventually opened a spot back up for Copeland once Mike Woodson came around to starting him. In that start on Sunday, Cope did what he's been doing when given big minutes: provide a decent facsimile of Steve Novak's shooting, but with the added wrinkle of an ability to put the ball on the floor intermittently. Twenty-two points on fifteen shots in 30 minutes might keep Copeland in the rotation (in the starting lineup, even), even on a fully healthy roster.
8. Marcus Camby. (Last week: 5) Hit a bunch of really ugly shots in the first quarter against Indiana, then aggravated the plantar fasciitis in his left foot. See you again in a month or two, Marcus.
9. Steve Novak. (Last week: 7) Novak's beef with Nate Robinson is the silliest and most adorable of the beeves. That whole exchange would look totally normal transposed onto a couple of fourth graders.
10. Ronnie Brewer. (Last week: 8) Brewer stunk his way not just out of the starting lineup, but out of the rotation, earning his first DNP-CD of the year against the Bulls (his old team). He returned in a bench role and played some productive defensive minutes on Sunday, but hey, if you're getting minutes, you're gonna have to go up with looks like this one, Ronnie.
11. James White. (Last week: 12) White saw quiet bench minutes before getting Mike Woodson's signature "start, then play just eight to ten minutes" call on Sunday. We keep waiting for him to break out and prove his worth, but he's shown that potential only in flashes. Still kinda passive.
12. Kurt Thomas. (Last week: 11) Started getting minutes again this week, hit some jumpers, then returned to the bench. I really wish someone would follow this guy around with a camera while the team's in London. I want to see Kurt stare down a beefeater or elbow a crumpet or something.
Injured: Iman Shumpert (but he's ready now!), Raymond Felton, Rasheed Wallace