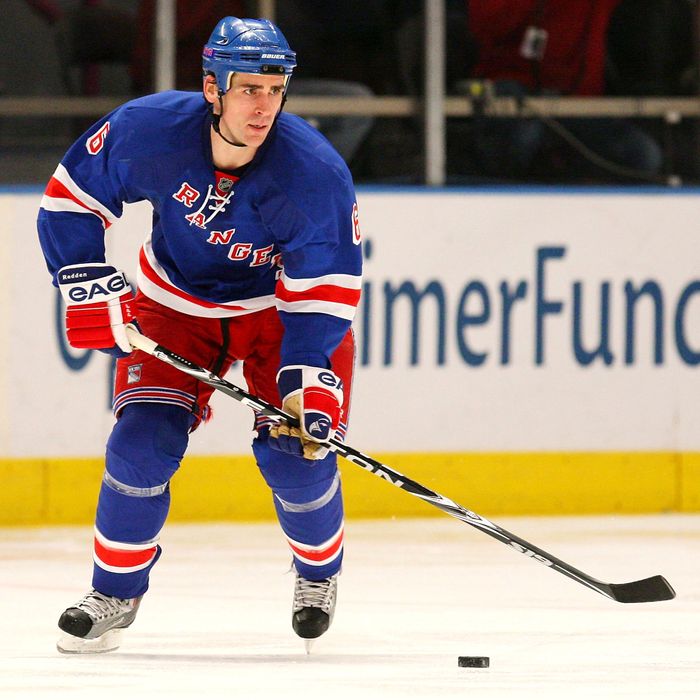 It's sort of fitting that as the Rangers prepare to kick of their most highly anticipated season in more than a decade, the team has cut ties with the final reminder of past mismanagement. Yesterday, as expected, the team bought out the contract of Wade Redden, after the league and players union agreed to allow that sort of thing to happen now instead of after the season. Redden, who spent the last two seasons on the Rangers' AHL affiliate, was hardly the only expensive mistake Glen Sather ever made. But the others were already gone: Scott Gomez, for instance, was shipped away to Montreal after just two seasons, while Chris Drury, as well liked as he was, was bought out in 2011.
There wasn't necessarily a turning point when Sather started to Get It: You can trace the rebuilding of this team to events that took place before the lockout, but big mistakes were still made after it ended. In any case, Sather has mostly gotten his act together and assembled a team that's both talented and eminently likable. Once upon a time, the Rangers' strategy was a league-wide joke. How different are things now? Check out the Hurricanes section of the Down Goes Brown conference preview or read Puck Daddy's Ryan Lambert express bewilderment about how the Rangers can look this good on paper and still have some room under the cap. Cutting ties with Redden doesn't make the Rangers any better — and his buyout affects their cap situation for this year, as does Drury's — but on the eve of the 2013 season, there's a certain symbolism to it, no?
In the spring of 2010, a friend of ours submitted an item about us and our job to our high school's alumni magazine. It described this blog as "the go-to Internet source for daily New York Rangers pessimism." Indeed, the 2009–10 season saw the Rangers miss the playoffs for the first time since the lockout. But the seeds of a better team had been planted, and less than three years later, Sather's plan has really started to come together. He's still willing to throw around big money: The Brad Richards contract, especially, won't look so good toward the end, but give Sather credit for identifying a window of opportunity and going for it.
Yes, looking good on paper doesn't mean very much, and the playoffs are chaotic and unpredictable. But with the season set to open tomorrow, the Rangers — the Rangers! — look to be as dangerous a team as there is in the NHL this season. Optimism now abounds.