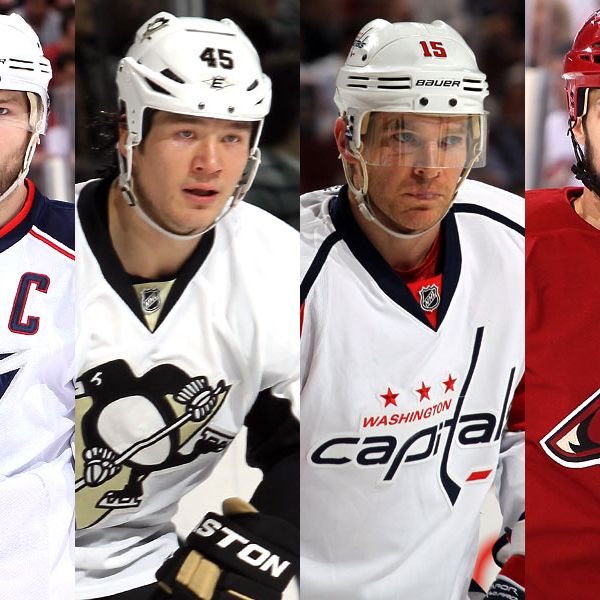 Rick Nash, Aaron Asham, Jeff Halpern, Taylor Pyatt. You'll have to imagine what they look like in Rangers jerseys until this weekend.
Usually, hockey fans get a handful of preseason games to get to know the players the team acquired in the offseason. But this year, of course, the league is jumping right into the season after an extended lockout and a brief training camp. Here, now, a look at the newest Rangers, in advance of Saturday's Opening Night.
Rick Nash
Perhaps you've heard of him? Glen Sather wisely passed on him at the trade deadline last season, and waited until Columbus dropped its asking price to something reasonable. But now Nash, 28, is being heralded as the final piece of the Rangers' puzzle, and the hype is not without good reason: He's an elite scorer, joining a team that struggled to find offense at times last season. More exciting still: Nash is likely to skate on line with Brad Richards, a better centerman than he'd been playing with in Columbus. Without specifically naming Nash, John Tortorella said at the end of last season that the team wouldn't rule out adding some scoring punch, even if it came from a player who didn't exactly fit the forechecking-forward mold the coach prefers. But Nash has a big body and a sick reach. He should fit in just fine.
Arron Asham
Brandon Prust was a fan favorite in New York and was the definition of the modern enforcer: He could fight, for sure, but he contributed in other ways, like killing penalties. But Prust is in Montreal now after signing a four-year, $10 million free agent contract, and the 34-year-old Asham was brought in to provide some fourth-line grit. Asham — who doesn't kill penalties, in case you were wondering — was signed on the same day as Michael Haley, who brings little more than the ability to drop the gloves, and will ideally spend a lot of time in the minors. (For that reason, we're not including him here. We're also leaving out Matt Gilroy, a depth defenseman who Rangers fans should already be familiar with.) Asham won't be in the lineup on Opening Night Saturday, as he's still suspended for this fucked up cross-check (and punch) of Brayden Schenn during last year's playoffs:
Jeff Halpern
The 36-year-old center, who scored four goals and twelve assists for Washington last year and was a healthy scratch for all but two of Washington's playoff games, signed a cheap one-year deal with the Rangers in July, and could be of use on a penalty kill that lost Prust and Ruslan Fedotenko to free agency. He also won 58.3 percent of his 614 draws draws last year, good for fifth in the NHL. (Perhaps he can teach Derek Stepan some things.) Fun fact about Halpern: Both of his parents are from Brownsville in Brooklyn.
Taylor Pyatt
Pyatt's another big body — six foot four, 228 pounds — and made some noise in the playoffs last year, scoring four goals during Phoenix's run to the Western Conference Finals. As Pat Leonard noted on his Daily News blog over the summer, the twenty shots he blocked in the postseason were also surely attractive to Tortorella. That said, Pyatt, 31, scored just nine goals in 73 regular-season games last season — exactly half as many as he'd tallied the previous year — and saw his ice time cut from 2010–11, as well.